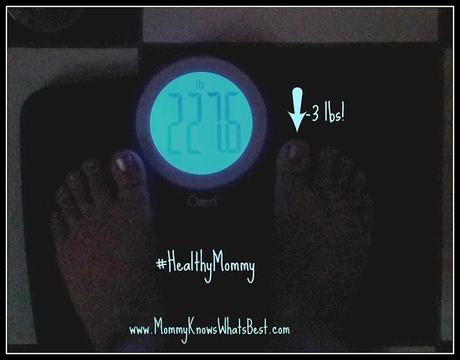 I had to take a picture this morning to prove it: I'm down three pounds from last week! 
It was my goal to at least lose 2-3 lbs from last week, especially since I had gained a pound last week instead of losing. I'm so excited that it happened! 
What changed? Well, I continued to track what I was eating, but I upped my water intake and went out for a few more walks this week. I also wore the baby quite often the past few days since he's been a teething Tyrannosaurus and won't let me put him down. With the added weight on me and bouncing/walking around my house, I must have burned some extra calories every day. 
Here's this week's results: 
Week 1: 236 lbs
Week 2: 235 lbs (-1 lb)
Week 3: 232 lbs (-3 lbs, total -4 lbs)
Week 4: 229 (-2 lbs, -6 lbs total)
Week 5: 230 (+1 lbs, -5 total)
Week 6: 227 (-3 lbs, -9 total)
I'm hoping for another 2 lbs this upcoming week. I don't want to be so obsessed with the weight loss, but you know what? I feel great. It's been a long time since I've felt this good. My body may not look like I'm getting healthy yet, but it definitely feels like it! 
Have a great weekend! 

Marissa is a stay-at-home mom who writes pregnancy and parenting articles on HubPages as ThePracticalMommy, as well as shares her motherly escapades on Mommy Knows What's Best. 
This post contains affiliate links, which help with the costs of running this blog. Thanks! 
My husband is taking this, and he is losing weight. I can't take it, but I know others who have and are doing well with it!