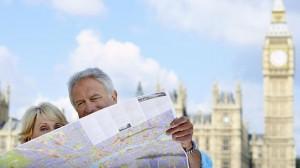 Traveling the world without having to return to the responsibilities of work is a major perk of entering your Golden Years. However, many people often grow discouraged by the idea that their medical conditions and/or disabilities may prevent them from doing so. Fortunately, traveling is easier and safer than ever before for seniors, so you can satisfy your wanderlust at almost any age.
Despite the ease and safety of traveling, however, it's important for seniors to properly prepare for their trips and to take every precaution when they're away from home.
Here are some tips to consider:
Before You Go
Visit your doctor. Ideally, you should visit your doctor four to six weeks before you travel—but even a last-minute visit will do. During this time, your doctor can confirm that you're fit for travel and provide any necessary medications and vaccines.
Research. Learn as much about your destination as possible, such as weather conditions, travel advisories, and any disease warnings. This will help you better prepare for your trip or choose a safer destination if necessary. You should also review the medical facilities in the area in case of an emergency. Speaking with a travel agent about appropriate travel destinations may be helpful as well.
Plan ahead. Once you've picked a destination, be sure to plan your itinerary carefully, and include plenty of rest time. Avoid cramming a lot of activities into a single day to prevent exhaustion. If flying far, be sure to give yourself plenty of time to recover from jet lag. You should also take the time to call ahead if you need to travel with a wheelchair, a guide dog, an oxygen tank, or any other medical necessities that may impact your travel.
Pack smart. In addition to weather-appropriate clothes, pack a small medical kit and enough medicine for the duration of your trip, as well as a few days' extra in case of delays.
Consider travel insurance. Most health plans won't pay for medical services outside of the country, so travel insurance will come in handy if you get sick or injured during your trip. GeoBlue International Travel Health Insurance, for example, provides a number of different plans to ensure that you get the medical care you need.
Take advantage of other services. These include boarding assistance on airplanes and trains and disabled accessibility. Boarding assistance programs will help you get to and find your seat on a plane or train and ensure you make it safely to your destination. If you use a wheelchair frequently, make sure your plane or hotel is wheelchair-accessible.
When You're There
Practice healthy hygiene habits. You know the drill—wash your hands frequently with warm water and soap, cover your mouth when you cough or sneeze, wear flip flops in communal showers, etc.
Prevent injuries. You can lower your risk for injury by always wearing a seatbelt in a car, not traveling at night in unsafe areas, and not riding in cars at night in developing countries.
Photo from LivHome.