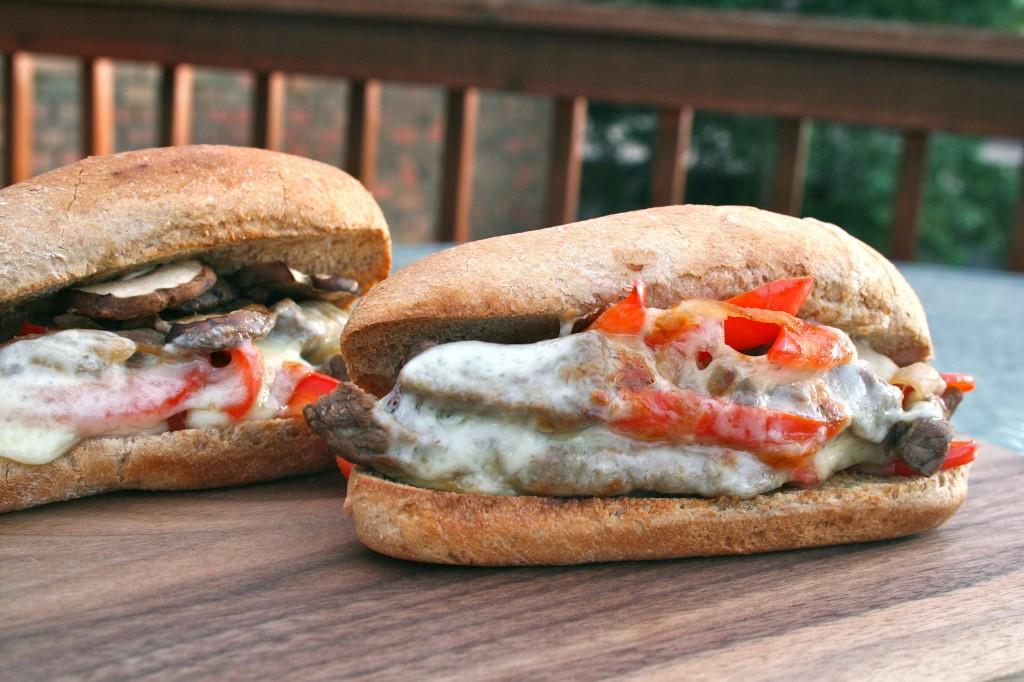 Ryan was born just outside of Philadelphia. I visited Pennsylvania with him while we were dating, but unfortunately we've only been back once since we got married. Each time I visit, I fall in love with the countryside, the people, and the food. We're hoping to make a trip out east this fall with Lucy. A visit to Philadelphia always merits two culinary indulgences: a freshly baked soft pretzel and a Philly Cheesesteak.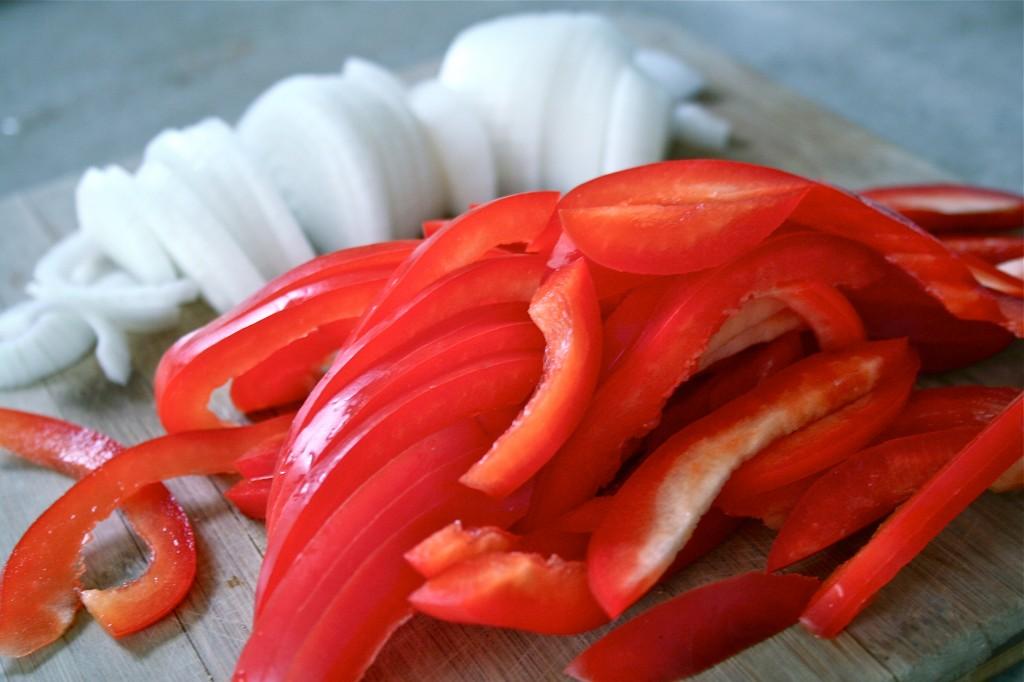 Now, there are endless debates about where to get the best Philly Cheesesteak…and I don't begin to consider myself an expert. Instead, Ryan and I make a healthier, more heart-friendly Philly Cheesesteak at home. We load up our hoagie rolls with lean meat, freshly sauteed veggies, and provolone cheese. We talk about the apple orchards during the fall, about the town of New Hope where Ryan's grandparents grew up. And we feel ever so thankful to have friends and family all over the country.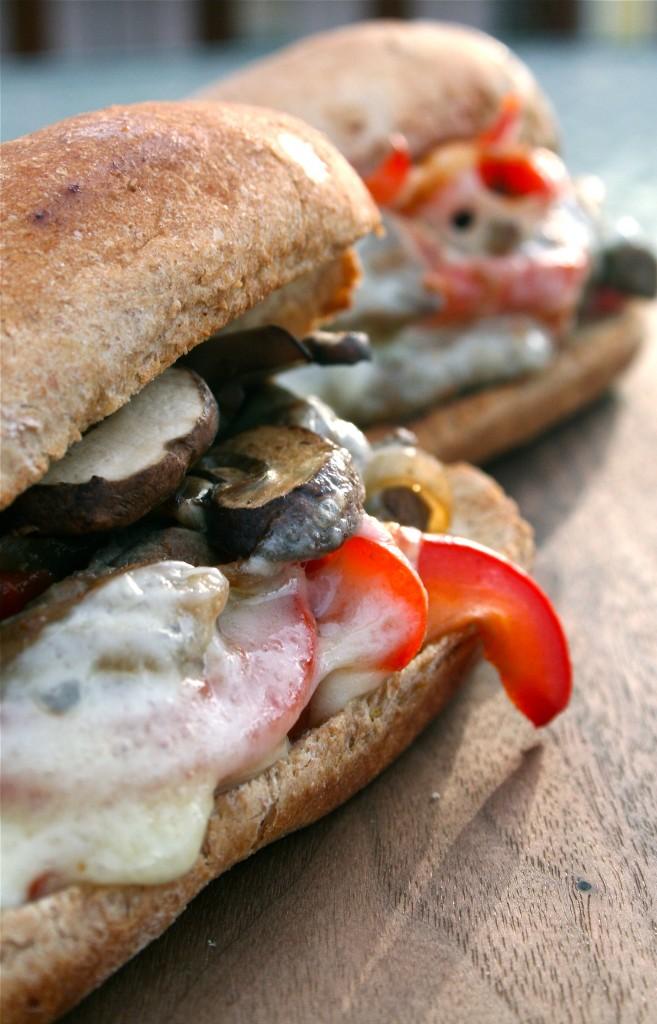 These Philly Cheesesteaks are loaded with bell peppers, onions, and mushrooms. I bought a grass-fed flank steak from Whole Foods and asked the butcher to slice it thinly. Within 30 minutes, we had these delicious sandwiches on the table. You can make your own hoagie rolls if you're feeling ambitious, but with 99 degree temperatures here in Colorado, we went for store-bought.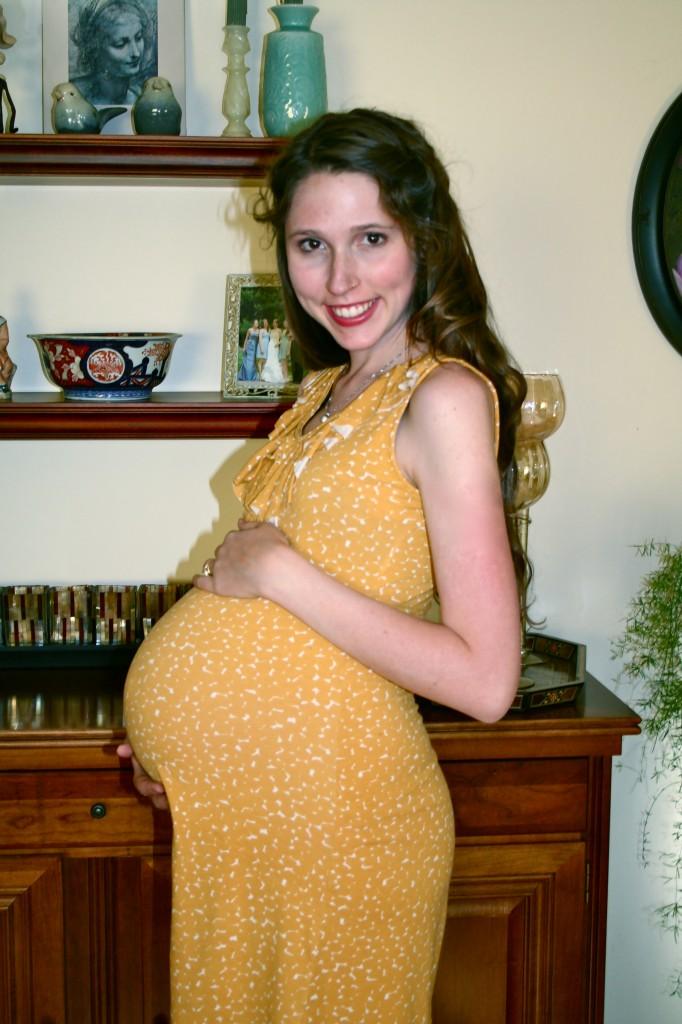 99 Degrees and 39 weeks pregnant!
Cravings: Peanut butter and bananas are my new power food. Freshly pressed juices, hard-boiled eggs, and English muffins are also at the top of the list.
Health: Last week, my OB checked me and I was 3 centimeters dilated and 70% effaced. She told me, "You have a lovely cervix for a first time mom," which I took as a compliment (although one I don't entirely understand). My OB went out of town over the past weekend and so I hoped and prayed Lucy would wait until her return. Wait, she did, but now I feel like she won't ever come out! I have almost constant braxton-hix contractions throughout the day, but nothing too painful. Two of my friends (with babies due around my due date) have welcomed their little ones into the world. I'm trying to not get impatient! My older sister Susanne's first baby was 10 days late…so we'll see what happens. I'm still walking and stretching and enjoying every movement of hers I feel inside me.
Fears: Fears have transitioned into manageable concerns. There is so much we don't know (about labor and delivery, about parenthood), and yet I'm confident Ryan and I will handle each obstacle with love and grace. A huge forest fire erupted in Black Forest yesterday. My sister and her family were evacuated from their home, and we still have no idea if it's standing. The fire is near the hospital, and there's much concern throughout our community. Just last year, my parents nearly lost their house in the Waldo Canyon Fire. Lucy will be coming into the world at a very tumultuous time here. Please keep the people of Colorado in your prayers.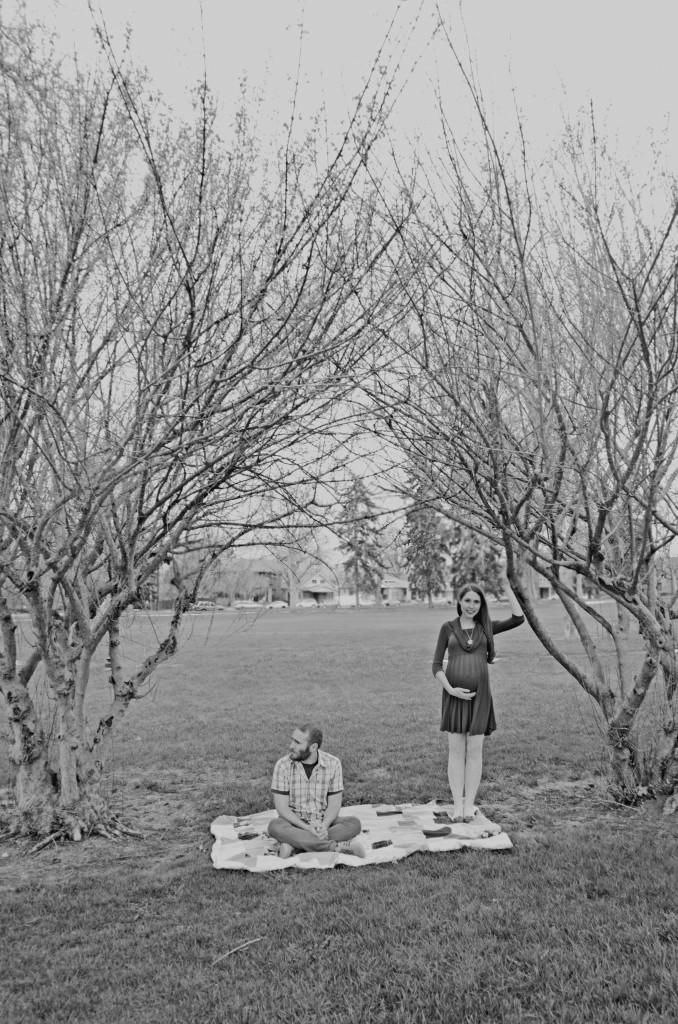 Hopes: There is a peony bush in our front yard. We haven't done any landscaping since we moved into our new home, so this spring has brought surprise after surprise as bushes turn from brown to green. Just yesterday, the peony bush began to bloom and as I walked outside I told Lucy that the tiny pink flowers were blooming for her. I hope that Lucy learns to find beauty in this world, a world that can be unpredictable and often frightening. We'll surround her with love and support as she grows from a newborn to a little girl, and we'll take time to point out the small miracles that flood our days.
Ryan and I have completed nearly every item on our list. Now we're just waiting. I've loved being pregnant, and I know I'll miss her inside of me once her birthday finally comes. And so I'm taking each moment as a special gift and savoring these last few days we have together, as one.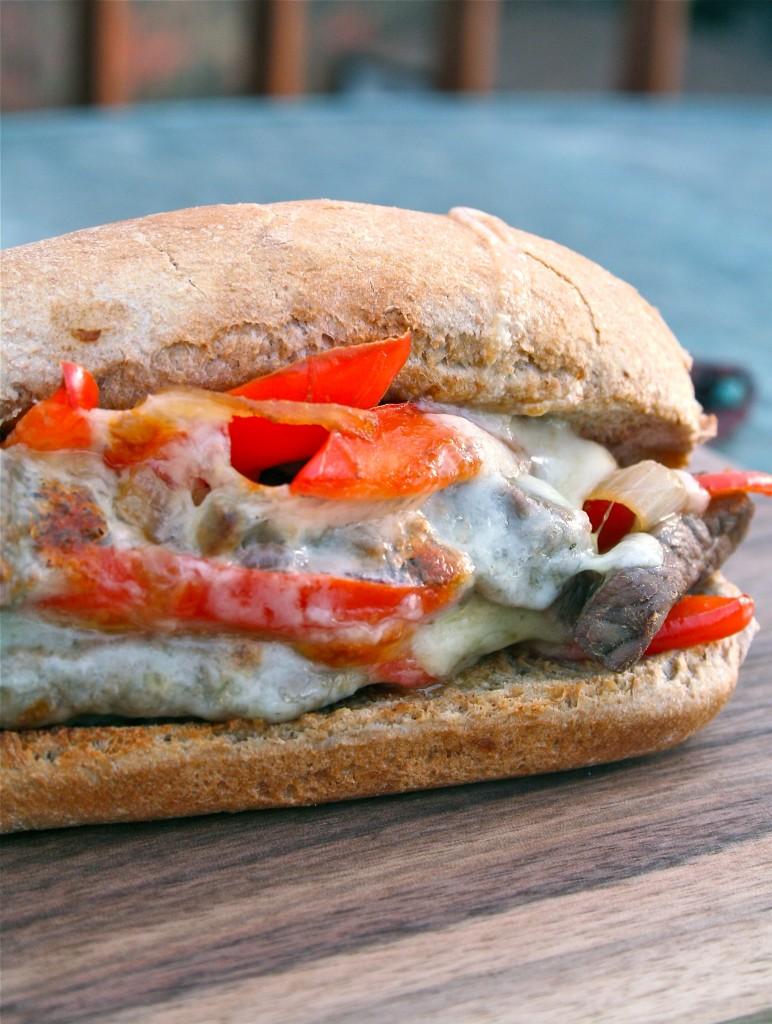 Healthy Philly Cheesesteaks
1 (12-ounce) flank steak, trimmed and cut into thin strips (ask butcher to assist, if possible)
1/2 teaspoon kosher salt
1/4 teaspoon freshly ground black pepper
2 large portobello mushroom caps
1 tablespoon extra-virgin olive oil, divided
1 cup thinly sliced onion
1 1/2 cups thinly sliced red or green bell pepper
1 tablespoon freshly minced garlic
2 teaspoons Worcestershire sauce
1 tablespoon lower-sodium soy sauce
1 tablespoon Dijon mustard
4 slices provolone cheese
4 hoagie rolls
Sprinkle beef with salt and pepper. Remove brown gills and stems from portobello mushrooms . Thinly slice mushroom caps.
Heat a large nonstick skillet over medium-high heat. Add 1/2 tablespoon of oil to pan; swirl to coat. Add beef to pan and sauté for 2 minutes or until beef loses its pink color, stirring constantly. Remove beef from pan. Add remaining oil to pan. Saute onion for 3 minutes before adding mushrooms, bell pepper, and garlic; saute vegetables for 6 minutes. Return beef to pan and saute for one one minute or until mixture is thoroughly heated and vegetables are tender. Remove from heat. Stir in Worcestershire, soy sauce and mustard.
Distribute meat and vegetable mixture evenly amongst sliced hoagie rolls. Arrange provolone cheese slices on top of each hoagie. Broil in a 500 degree Fahrenheit oven until cheese is melted and bubbly (be sure to watch your hoagies closely as broiling can turn to burning quite quickly!)
Monet
Anecdotes and Apple Cores