Lets talk healthy lunches and dinner after pigging out at Easter weekend ay? One of my favorite things to make and eat is soup...simple to make...easy to heat up and it's always delicious...
I started making this soup a few years ago and it's definitely a staple in my weekly eating whether it be for lunch or with added chicken/turkey for a quick and simple evening meal...
It originally came from a Good Food 101 Recipe Book which are fab as they dont take up much space in the house...have a picture with every recipe...and most importantly they have simple and easy to find ingredients...I usually find the books in local supermarkets or recieve them as gifts...
These are the ingredients but I'll be honest in that I do tend to change them ever so slightly but I will explain which bits...
100g red lentils
1 onion
1 crushed garlic clove
1200ml vegetable stock
450g peeled and cubed sweet potato
450g peeled and cubed potato
3 tablespoons curry paste
First things first boil the kettle and measure out the amount of lentils you will need and put in a saucepan, add a little salt and fill with the boiling water...put this on the hob on a low heat whilst you are doing the rest...
Chop the onion and peel and cube the sweet potato and potato...this is where I change it though...as I dont eat onions I always use a leek and it gives a more subtle flavor than the onion but still tastes delicious...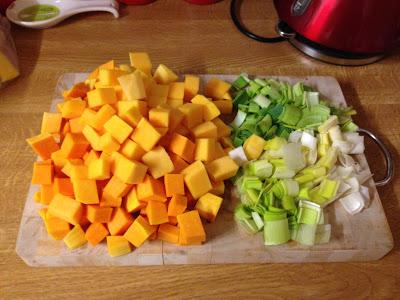 Next...place the onions/leek into a large deep saucepan with a little oil or butter and cook at a low heat...we dont want them to brown...just to soften...
While this is cooking prepare your garlic clove and make the stock...when the leeks are softened add the garlic clove and the 3 tablespoons of curry paste...I usually go for balti...and stir...add in both lots of cubed potatoes and stir on the heat for a few minutes...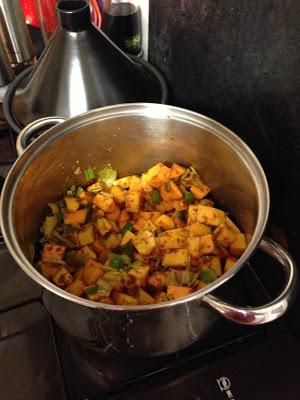 Strain the lentils and add to the mix with the stock...stir...and leave on the boil for around 15 minutes or until the potatoes are softened...
Transfer to a blender or use a hand blender to get the mixture to a smooth blended consistancy...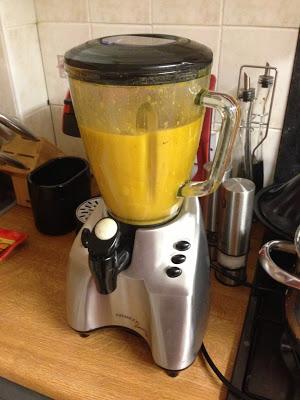 Serve with some fresh bread and chunky cheese for a delicious lunch or dinner...yum...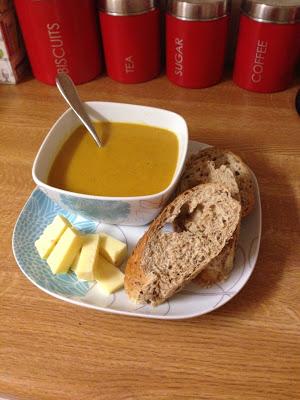 This soup is a good source of protein with the added lentils, low in fat and the flavor is amazing from the curry paste...really different...There are some changes I do make however as well as the leeks...if Im making this for a lunch time dish I tend to swap the white potates for butternut squash as it makes it a little more healthier and lower in carbs while keeping the flavor...the consistancy is a little thinner but the flavor is still there...in fact its a little sweeter if anything...
Also...if Im making this as a main meal dish I will always add shredded chicken or turkey to it to give it some more protein...I'll also do this at lunchtime if I know Im going to an exercise class or the gym after work...
Ryvita or wholemeal pitta breads are also good to eat with it if you are lowering the amount of bread you eat...
Hope you enjoy....