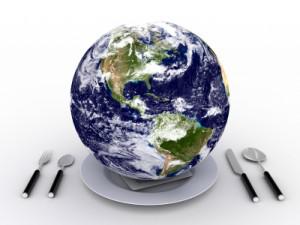 My wife got a good chuckle when she heard I was going to write a blog article on healthy international cuisine.  After all, I am not exactly Julia Child around our house, as my version of a self prepared healthy meal is steak, Rice-a-Roni ( the butter and herb version), and tossed salad with ranch dressing.   I reminded her, however, that I was quite good at scouring the internet for fresh ideas, and even offered (she refused) to make one or two of the dishes pulled from my research. 
 While most are familiar with healthy dietary choices at home, travelers to other countries are often faced with a plethora of unfamiliar food choices without any understanding of what is healthy and what is not.  Eating out is unhealthy to begin with, as most establishments provide large portions, heavily salted and filled with fat derived calories.  Restaurants in foreign countries are no exception, so it behooves the international traveler to plan plenty of home cooked meals, if possible. 
Here are a few websites that feature some wonderful recipes, broken down by region and/or type of food.  The list is quite short, but should give the international cuisine novice committed to eating healthy a good start:
Heart and Stroke Foundation- Recipes from Around the World
Healthy Latin American Favorites
World Health Circle of International Cooking
International Vegetarian Union- Especially for Vegans
Healthy Salads with an International Flavor
Fermented Grains For the Die Hards
Bon Appétit!