Ok, so there is SO much to talk about in the way of our home renovation.  We are still in the "tearing down" and "research" phase which has been way more involved than we had anticipated.  Probably because we keep changing our minds coming up with new genius ideas…ahem.
Plus we are having to get good deals on every single inch of this project, ie: getting quotes from 6 different cabinet makers, 4 different window companies, and scouring ebay and craigslist for deals.  Thinking and re-thinking endless options like a sink in the Laundry room.  I never felt the need for one until I had Miles.
Also on my wish list: an outdoor shower for the kids & dog.  Genius, right?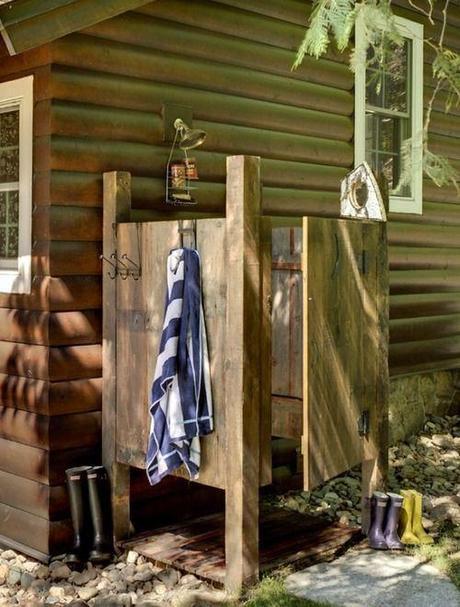 outdoorcurtains.biz
Also, I recently bought this much vinegar: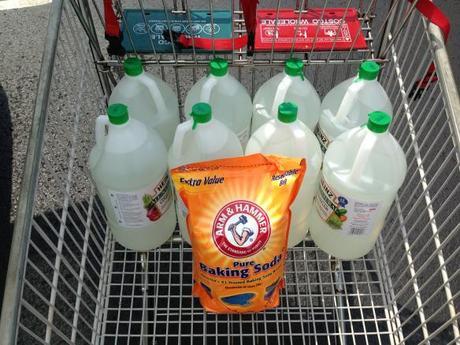 …which we are using to remove TONS of wallpaper from ELEVEN ROOMS and hallways in the house.   And even if any of it was pretty, we would still remove it for sanitary reasons since the house was abandoned for 2 years before we bought it.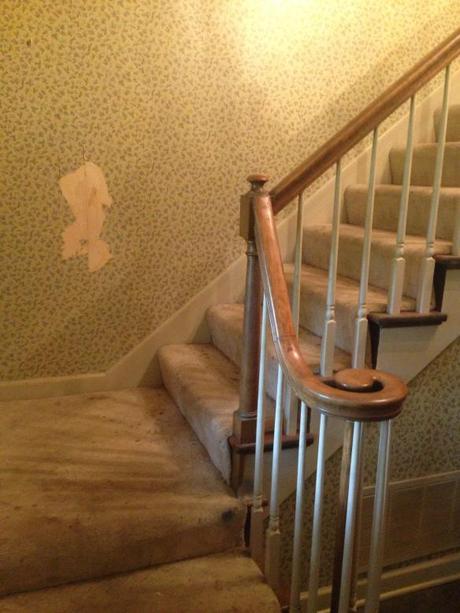 The entryway and upstairs hallway were covered in one layer of this really pretty green pattern, but had this oh-so early-90′s layer of ivy paper over it.  There was just too much to remove it all, so we removed the top layer and are putting farmhouse style boards like these over it.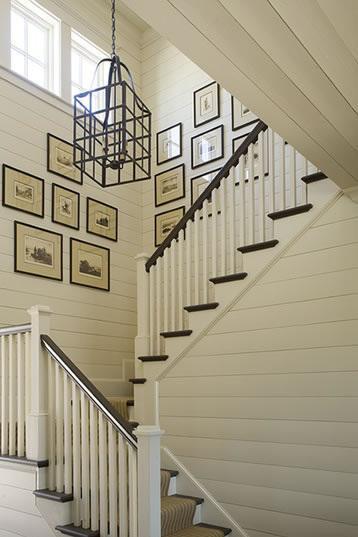 justinetaylor.tumber.com
Won't that be lovely?  Plus, I imagine that scrubbing them clean will be much easier than traditional painted drywall.
For the rooms that are going to be painted, we are using the aforementioned vinegar to remove the wallpaper down to the drywall.  I'm sure you've heard the time-honored tradition of using fabric softener, but you know how I feel about that nasty stuff, and I didn't want to A. spend the money on the bad chemical stuff or B. use the bad chemical stuff because, it's MADE OF BAD CHEMICALS.
So, we are using a more natural approach that seems to be working just as well.
1. For the areas where the top "plastic" layer doesn't remove easily, we score it with this tool so that the vinegar can penetrate through to the paper layer: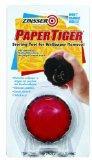 2. Then, apply a solution of 1 part vinegar to 1 part water with a mop, sprayer, or sponge.  Let it soak for 15 minutes or so to destroy the glue bond. 
3. Then scrape and peel away with this guy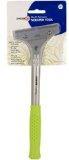 We aren't doing much of this part ourselves.  Hank's tour schedule is too crazy for him to be involved in the manual labor at this point and I can't do it as I don't want the kiddos at the new house yet with nails on the floor, dirty air vents, etc., so, we've hired this portion out.
However, we are getting good feedback about this system from the guy who is doing it for us!  Plus, I love the fact that vinegar (once dried) is a deodorizer and natural germ killer.
Vinegar is also fantastic at killing mold.  A lot of folks use bleach, but once again, I don't touch the stuff for health and environmental reasons (ie: it releases cancer-causing fumes, and is devastating to animal and plant life when it leeches into soil and bodies of water.)  Thankfullly, there is research to suggest that not only is vinegar effective at killing mold, bleach actually may only "bleach" or "dye" the mold, giving the illusion of it being gone but often leaving the spores intact.  It also may actually encourage MORE mold growth because it contains water.
We bought a Garden Sprayer and used plain, undiluted white vinegar to spray and scrub away any mold we found in the garage and crawl space that came about thanks to a faulty drainage system that we have since corrected.  Turns out that downspouts dumping straight on the foundation isn't the best idea for an area that gets as much rain as we do, huh?!
Can't wait to share more!  I bought the most amazing range for the kitchen that I'll reveal soon!!!
live well. be well.