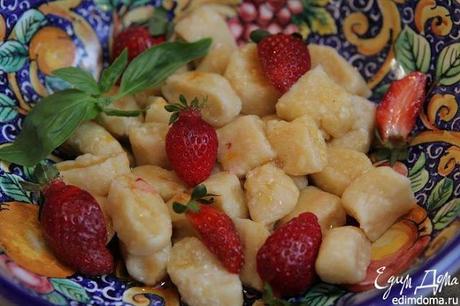 Summer is the best time to enjoy nature's gifts - strawberries ( or any types of berries) with lazy ravioli is our family's latest favorite. Try! I think you won't be disappointed!
INGREDIENTS: 
10 oz ricotta cheese 1 cup of flour1 orange5-6 large strawberries2 eggs2 branches of basil6 Tbps brown sugar1 Tbsp rum ( or rum essence) 1/4 tsp vanilla2/3 tsp sea salt
HOW TO:
step one:  Whip eggs with 3 Tbsp sugar until doubles in size
Add ricotta to egg mixture, orange zest, vanilla extract, pinch of salt and mix well  ( fork works great) 
Fold in 2/3 of flour, knead , shape into small circles
Boil and salt water, cook ravioli ( ready when float up!) 
step two:
heat up the skillet
take remaining sugar, add orange juice ( from half the orange)  and make a caramel
add rum or rum essence and pour over lazy ravioli


cut strawberries, decorate with basil and 


Enjoy!