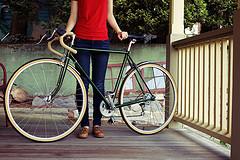 Back in March, we covered a story on the healthiest cities around the world for those of you that value a healthy and active lifestyle and want to visit cities that will facilitate your desire to be active, energetic, and healthy while on vacation. This time around we are adding three more healthy destinations that are located in the United States.   This "healthy" factor may be hard to determine before arriving at your destination and if being surrounded by a fit and healthy culture is something that will make your next vacation a memorable one, the Healthy Travel Blog recommends checking out these U.S. cities which have been recognized among the healthiest in the world.
Expanding on the full list, Portland, Oregon, like Amsterdam, is known for its bicycling opportunities. There is a multitude of options of different types of biking paths and trails, and as a result Portland is known as one of the healthiest vacation spots in the United States.
Honolulu, Hawaii is a very healthy vacation spot and is next on our list. One way to make sure that you do not compromise your healthy lifestyle while on vacation is to surround yourself with healthy and physically fit people. Honolulu has been recognized as the "slimmest" city in the U.S. While in this city, you will find yourself in the midst of plenty of people that are in-shape and very active. Hopefully, this will motivate you to stay or start getting active, rather than just devouring all of the delicious food that is offered in this popular vacation spot.
The last addition to our list of healthy and activity-promoting cities is Portland, Maine. A seemingly obvious way to make sure that you stay active while on vacation is to visit a location that has plenty of gyms and workout facilities. Portland is said to have the most gyms per capita in the country, making it difficult to tour around the city without finding and taking advantage of a shocking number of gyms and workout facilities.
While rest and relaxation are an important and valuable part of a vacation, personal health and fitness are also extremely important and can be easily maintained or even initiated while still enjoying a relaxing and stress-free vacation. Take these destinations into consideration for your next vacation and allow yourself to spend a little more time focusing on your health and personal activity level while also enjoying the beauty and cleanliness of the area.
Author: Derek Giannetti
Derek Giannetti, a guest contributor to the Healthy Travel blog, is an upcoming senior at Ursinus College where he plays football and studies exercise and sports science. Upon graduation, Derek hopes to pursue a career in health and physical education.
Photo by amanda.