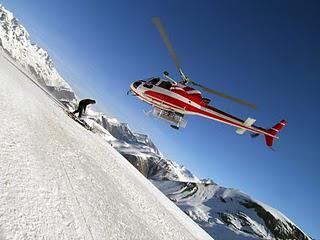 Whilst away last week I was waiting in a ski rental shop for Little Girl to be fitted out with skis and boots, when my attention was drawn to a skiing video displayed on a large screen. It began in traditional fashion with expert skiers making their way down through fields of deep powder. It quickly moved onto show more extreme skiers jumping over ever steeper cliffs and overhangs; all young, happy people out to enjoy themselves and with a clear passion for their sport.
Not every would-be ski-jumper made it safely down though; somersaults and back-flips with skis on aren't exactly designed for secure landings.
Suddenly the camera moved in on one poor participant who had landed on his back. Instead of moving on to show more excessive moves, the film stayed with the victim, as the mountain rescue helicopter landed adjacent to him and then a paramedic administered fluid by drips, before the young man was stretchered off the mountain and flown to a nearby hospital.
It didn't end there. Instead we were taken inside the operating theatre as a team of surgeons battled to save the skier's life and finally there was an interview with the lead consultant, holding a section of vertebrae from a human skeleton.
It set me thinking. Health warnings may have started on cigarette packets but where will they stop? If this is what we can now expect in ski-rental shops, how long before we see something similar in bridal wear boutiques or suit hire shops? Films that take you from the magical wedding and honeymoon to domestic banality, followed by arguments and ultimately even divorce itself with a few stern words from a judge.