Now that it's Spring, the sun dresses, sandals, tank tops and capris can finally take over our closets. But, if you're like me, my skin has not seen the light of day since last summer.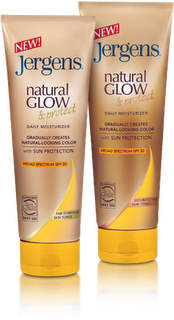 I've already blogged about how much I like Jergens Natural Glow daily moisturizer, but I still love using the product everyday to help add a bit of natural color to my skin. I started using it a few weeks ago and, while I don't look like I've been laying out in the sun, I do have some color.
But I have found another Jergens product that I love that is super practical. I discovered Jergens Natural Glow & Protect at Target a few weeks ago and picked it up for the summer. It still gradually gives your skin some color, but it  also has SPF in it. You can put moisturizer and SPF on at the same time when you get out of the shower before spending time outside.
If you are spending a significant amount of time out in the sun, you will have to reapply some sunscreen to protect your skin from getting burnt.
Before using either Jergens Natural Glow products, I recommend exfoliating with a loofa or scrub to get rid of dead skin. I also put regular moisturizer on my knee caps, elbows, inside of my wrists and my heels and ankles before putting on the Natural Glow products so that the color doesn't collect there and create orangey streaks and spots. You should also wash your hands after applying this moisturizer so that your hands and nails don't turn orange either.