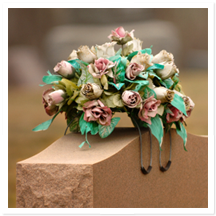 Choosing an inscription for a headstone is difficult, but our list of the most popular headstone quotes will help to make the process easier. For as long as people have lived, inscriptions have been placed on a monument at the place of burial. The practice may differ between cultures, religions, and countries, but the reason is the same - to honor the deceased.
Selecting headstone quotes for a loved one's memorial is not easy because of the limited space on the headstone. Furthermore, whatever text is selected will remain on the headstone for eternity. Before selecting the text it is important to think about the purpose of the quote. A headstone quote can come in many forms. This is because these quotes or messages are often personalized to fit the dearly departed for whom it is written. Some family members leave their own messages, while others place quotations from the favorite books or movies of the deceased. There are also those who use quotes that come from the deceased themselves, while most other quotes also describe the life that the dead has lived and left behind.
The following are some of the most popular and commonly used headstone quotes. Place one of these quotes on a headstone to create a permanent symbol of love and respect.
Headstone Quotes
Where there is great love there are always miracles.
A man must stand erect, not be kept erect by others.
A life full of years of understanding.
Her works were kindness, her deeds were love.
May you find comfort in the arms of an angel.
Your patient courage is a beloved memory.
Blessed sleep to which we all return.
We lived together in happiness, we rest together in peace.
Gone yet not forgotten, although we are apart, your spirit lives within me, forever in my heart.
Not my will but thine be done.
Death leaves a heartache no one can heal; Love leaves a memory no one can steal.
Until we meet again, may God Hold you in the palm of his hand.
Gone from home but not from our hearts.
Real love stories never have endings.
Our love goes with you and our souls wait to join you.
There was grace in her steps, love in every gesture.
No farewell words were spoken, no time to say goodbye, you were gone before we knew it, and only God knows why.
She graced her family with acts of loving kindness.
What we keep in memory is ours forever.
The heart of him who truly loves is a paradise on earth.
Peace is thine and sweet remembrance is ours.
If love could have saved you, you would have lived forever.
I will lift up mine eyes unto the hills.
Choosing from the headstone quotes above and selecting what will be written on a headstone is not an easy task. All who visit the grave will see the message, and it will stand alongside the grave for years to come. More importantly, it is this message that lets other people know what kind of person is buried in the grave, and how much he or she is loved by those who have been left behind. Truly, not every gravestone has a quote inscribed on it, but the ones that do show much love and respect for the dearly departed.
Select a headstone quote that best describes your loved one or that reflects the love from his or her friends and family. The headstone quotes listed above are all good choices. However, if you are looking for a shorter inscription instead of a quote, read our other articles listed below.