Headline Shirts :
At Headline Shirts, we're obsessed with making intelligently funny tees and apparel. While that makes us lousy dinner guests, it makes us really good at making smart, great-looking stuff that you won't find anywhere else.
Our Vintageblend™ tees are hand-sewn right here in San Francisco, CA, using a super-soft, poly/cotton blend. As you might expect from a bunch of West Coast tree huggers, we use only Eco-friendly inks and materials right down to the compostible bags we ship them in.
We're pretty sure you're going to like what you get from us. But if you don't, let us have it. We want to do whatever it takes to fix it (unless that involves being the getaway driver in a heist or something).
Oh, and that baboon you see in the photos? You're wondering who that is, aren't you? That's our chief of operations, Robert. Robert Baboon. (Don't call him "Bobby" — he insists on Robert.)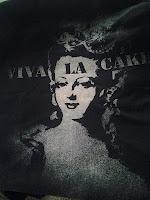 Katie at Headline Shirts gave me a wonderful opportunity to do a review/giveaway! (Read Below Review To Enter)  I chose the Viva La Cake! Shirt, for many reasons. For one, The Viva La Cake ($24.00) about made me pee my pants. For one simple reason. I'm a huge sweets lover. And the second reason I love this shirt is because I love the faded Marie Antoinette print. It spoke to me, telling me to buy her, and well no one can resist Marie Antoinette. Duh. We know she's got a shaky reputation, but Marie Antoinette had a point with the whole "Let them eat cake" idea. I mean, if someone was like, "You have a choice of this piece of bread or this piece of double-layer pumpkin cheesecake," what peasant in their right mind would choose bread?
Now, obviously we're not saying that one could live on double-layer pumpkin cheesecake. You would need to balance it out. Maybe mix in some German chocolate cake, along with some caramel cream gateau, and possibly a lemon bundt with rasberry rhubarb glaze. But you get the idea.
In conclusion, don't viva la revolucion. Viva la cake!
 I wore this shirt to a few places (trying not to wear it out.) and I have received a few, strange,  and somewhat funny comments, and compliments about this shirt. I am a really big Tshirt freak. I'm pretty sure besides my love for jeans, tshirts rule my side of the closet. It's really hard to find womens tshirts in my area (Tulsa,Ok) more then you would expect to find around here. It's like we live in an area where women are forced to wear dresses. Women demand more Tshirts! well until that happens, I found an amazing "online" store that provides me with plenty of well.. freakin' awesome Tshirts at really affordable prices! thanks Headline Shirts. One lucky reader of mine, will also be thanking them when they win a Headline Shirt of their own. Woo! I have put my shirt through the ringer. I wore it, washed it, and wore it again. It kept its shape really well. But I did NOT put it through the dryer. It says not too. And well, do I look like a rule breaker to you?.. (Don't answer that!)
A couple of my favorite Shirts from Headline Shirts are of the following - chinese food and donuts , french bulldog , and squirrels squirrels squirrels . I have a bunch more, but it would take forever for me to name them all.  This is one of my most comfortable shirt I currently own. I would go in a coma in this shirt while I'm sick if I didn't think I would mess it up. I can throw on a pair of blue jeans, this shirt, and a pair of flip-flops and everything is alright. People probably think I finally found some style wearing this shirt. (I will keep letting them think that.) Sizes come in S-2xl (3xl currently out of stock) in mens. • VintageBlend™ tee by Headline Shirts, • Made in San Francisco, • 60/40 xtra-soft cotton/poly,   • Eco-Friendly Discharge Ink, • Ships in 48 hours. and S in womens. S-XL is currently out of stock. You can request the sizes that are out. And trust me. You will want too..  •VintageBlend™ Scoopneck tee by Headline Shirts, • Made in San Francisco, • 60/40 xtra-soft cotton/poly, • Eco-Friendly Discharge Ink, • Ships in 48 hours.
Headline Shirts Has an amazing selection of Intelligen​tly Funny Shirts for Men, Women, Kids, and even Acessories. You can get $5.00 Off your order if you sign-up for the newsletter if you use This Link.
 FOR THE GIVEAWAY.. I'm going to make it short and simple..
(1) Winner of my blog will score a (FREE) Headline Shirts of THEIR choice. FREE SHIPPING also!
To Enter do the following -
(1)  You (MUST) be a follower of (THIS) blog, GFC connect (Google Friend Connect) or LinkyFollow. (Comment that You Are or That You Did.
(2) Go to HeadLine Shirt's Facebook and (Like Them). They love it when you comment (Hint)
(3) Go to HeadLine Shirt's Twitter and (Follow Them). They love it when you comment (Hint)
... That's it! .. Comment below that you did the above.
Giveaway ends - October/11/2012.
♥ You can find Headline Shirts on Facebook - Here.
♥ You can find Headline Shirts on Twitter - Here.
♥ I receive no monetary compensation for this review.  I was provided a t-shirt to try and give my honest opinion.