Have you been curious about Powertex? Maybe you've seen some of the amazing art projects made using it and you can hardly wait to try it yourself? Well, here's your chance. On May 28th, I'll be back at Dorothy's Scraps N Stamps in Boiling Springs, North Carolina to teach a Powertex sculpture class where we'll be creating a Majestic Bison. Beginner or advanced, you'll love this workshop!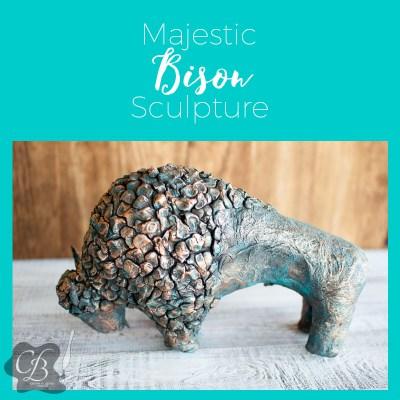 This is a 6 hour workshop with a lunch break.
Making a stone art sculpture allows complete freedom of expression in creating wonderful figures that have their own individuality and presence. I'll show you how to construct a wire armature that is 'mummified' and then modeled with air-dried clay by mixing Powertex as well as mixing with Stone Art and 3DFlex. Stone Art is a kind of Paper Mache specially developed for Powertex where 3DFlex is more a clay. I will guide you step by step to transform your armature into a majestic Bison. You'll love your finished piece of art that is sure to wow friends and family!
I would love to see you at Dorothy's Scraps N Stamps. We are going to have a great time. Come get creative with me!