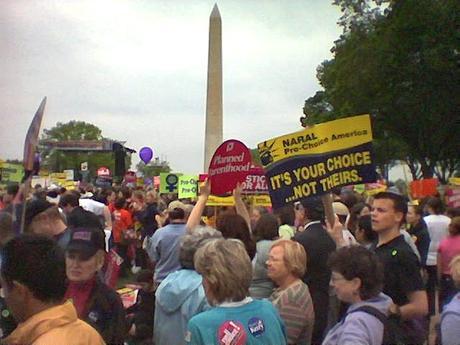 Support Texas Women.
I enjoy plenty of things about living in West Texas. I love being a student at Texas Tech University and the traditions and beauty of my campus: West Texas has beautiful sunsets and plains that go on for miles. But I have also been forced to live without some things — like In-N-Out Burger, and, oh, just my ability to access to basic healthcare.
HB2, a law at the center of a case currently in front of the Supreme Court, is designed to decrease abortion access in Texas. It's the same law state Senator Wendy Davis famously filibustered in her pink tennis shoes. If HB2 is fully implemented, all but ten clinics in the state will be shut down, and the law has already forced more than half of the abortion clinics in the state of Texas to close.
The law particularly impacts residents of West Texas, a rural area, even more than others in the state. There are currently just three options for individuals seeking this procedure in the area: El Paso, TX, Las Cruces, NM, and Albuquerque, NM. This means, on average, residents in this region have to drive a 304-mile round trip for an abortion. This trip is not only time-consuming, but costly, too: Abortions — including the procedure itself, travel, and lodging — can cost women thousands of dollars. What's more, around 79% of workers in low-wage industries do not have paid sick time, so taking time off work to travel to the procedure then recover afterwards may mean additional financial losses for low-income women.
No one should have to travel hundreds of miles, or leave their home state, to get necessary health care. They shouldn't have to pay hundreds or even thousands of dollars to get it, either: That's unaffordable, especially for people who are already struggling to make ends meet.
This is what the West Fund believes. According to its website, the West Fund provides financial support for the reproductive health care individuals in this part of Texas need. In the past 16 months alone, the West Fund has helped 160 people, Gina Lawrence, director of Media and Outreach for the West Fund, told me. HB2 has caused people to postpone their abortions, which increases the cost, she said, adding that 52 percent of the organization's patients needed to ultimately travel to New Mexico to have the procedure.
HB2's impact on already disadvantaged communities is made clear by examining who most frequently contacts the West Fund for help. Sixty-one percent of patients are unemployed, 85 percent are people of color, and the average age of their patient is 24, according to Lawrence. 50 percent of their patients have insurance, but abortion is not covered by Texas Medicaid and Senate Bill 575 could ban private health insurance plans from funding any abortion that is not a "medical emergency."
As a young woman of color in college in West Texas — as someone whose identity aligns with those most vulnerable to these restrictions — this issue hits home for me. I could also find myself in need of an abortion but without easy access, all because former Governor Rick Perry and other politicians in Texas made damaging decisions about women's healthcare.
While hearing oral arguments and making its decision, I hope the Supreme Court looks at the work the West Fund does and realizes how many people are affected by this legislation. I hope they see the way this legislation affects young people — how specifically people in West Texas, and people of color across the state will be hurt if HB2 is fully implemented. I hope the Justices see how much this legislation affects people like me. I hope the Supreme Court makes the right decision, and I hope it sees the difference it can make in the lives of millions of people.