These cookies are super tasty, I don't exaggerate. Chewy nutty centre and soft chocolate ganache. The smell of hazelnuts, orange, vanilla and cinnamon is irresistible! Absolutely easy and quick to prepare. Almost no flour, no butter. Something for the Easter table as well (those who are going to celebrate later)....for to serve to chocolate addicts:)
The lovely recipe is taken with minor changes from this Turkish cooking site.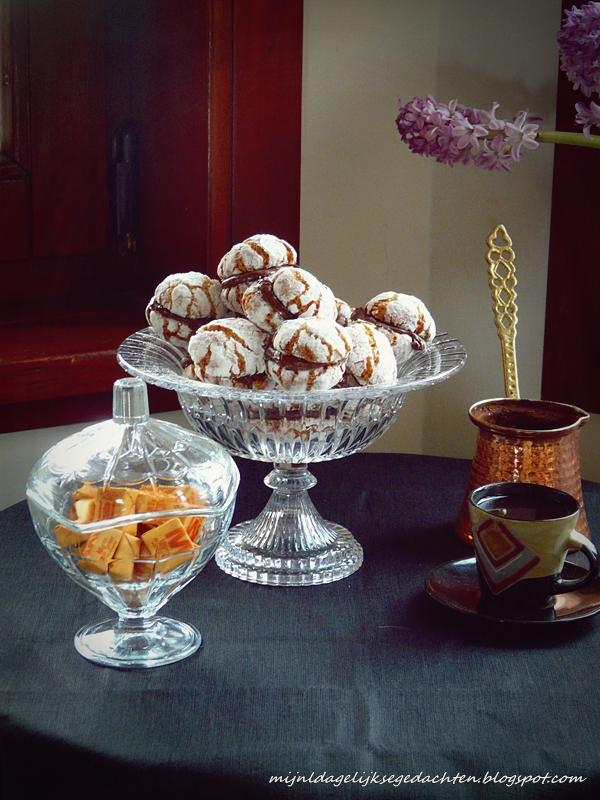 250ml hazelnuts, toasted
200ml sugar
pinch of salt
4tb.s. AP flour
1 egg
1 yolk
1t.s. cinnamon
1tb.s. candied orange peel or just grated orange zest
For chocolate ganache I just used "Nutella" like chocolate hazelnut cream spread.
vanilla powdered sugar to roll cookies
Preheat oven to 180C.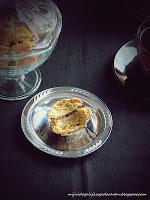 Blend hazelnuts until you get hazelnut flour. Add all dry ingredients and blend once again. Now add wet ingredients and blend again to incorporate. take the dough out of blender, use some flour to dust a table. Shape the dough into a ball, cover with plastic and refrigerate for 20-30 minutes.
Sift some vanilla powdered sugar into a small bowl. Scoop (with melon ball scoop) small pieces of dough and roll them into a ball, then roll each ball in powdered sugar.
Place cookies onto lined with baking paper baking tray. makes app.28 cookies.
Bake around 13 minutes, cookies will be soft to touch. let them cool completely. Spread half of cookies with   ganache and sandwich them with other half. Serve and enjoy!