On 9th June I set of with my son Myles and his mates Jeremy and Luke from Hazelbury Bryan on our charity cycle (in support of Help for Heroes and Canine Partners) to Murcia in Spain. I've no idea whether I'll make it but I reckon I have to have a go. The route is Cherbourg, Rennes, Nantes, Bourdeaux, Toulouse, Pyrenees, Barcelona, Alicante, Murcia. More information here - http://3countrycycle.co.uk/
On 1st June we have the warm up event in Hazelbury Bryan and I hope you will be able to join us. From 12:00 am participants will cycle a set 2 mile circuit around the village starting at the Antelope pub. You register outside the pub and receive your number to pin to your T shirt, put something in the charity box and do as many laps as you can with us.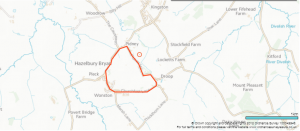 Hazelbury Bryan Circuit Route
You can even pay a small fee (£2 per circuit) to ride an electric bike, provided for the event by the Dorset Ebike Centre (all money to charity.)
A volunteer will be keeping a count of your laps around the circuit. From lunchtime onwards there will be a barbecue run by Luke's mom (your money for the burger going to charity) and from early evening the live music starts. After much persuasion, Not Made in China (Tiffany Wheaton-Green`s band) have agreed to make the journey up from Bournemouth with all their gear to play. They will be supported by a local band.
The weather is forecast to be overcast with no rain. So good for cycling.
Exercise, food and music. Complete sustenance for mind and body.