More news on the beanpole front... I have taken delivery of the Hazel rods I ordered a few days ago.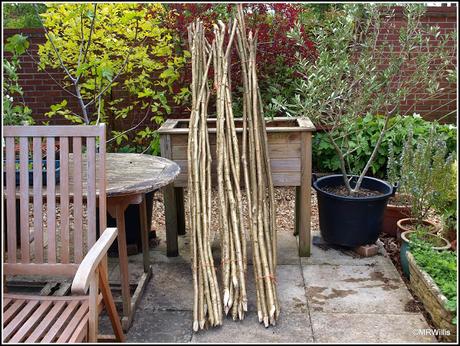 I had asked for 30 rods, 6 feet long and no more than 1 inch in diameter, because I had envisaged using them for supporting my tomatoes. In the event the rods turned out to be nearer 7 feet long - it was a bit of a challenge to get them home inside my car! I'm not sure that I will stick to the original plan. One of the ideas I'm mulling over is to make a tripod to support each of my tomato plants, but these rods may perhaps be too bulky for that. They may end up becoming bean-poles instead. I'll think about it for a few days before I commit myself.
On Saturday I put up the 9-foot Hazel poles which I have had for a few years now.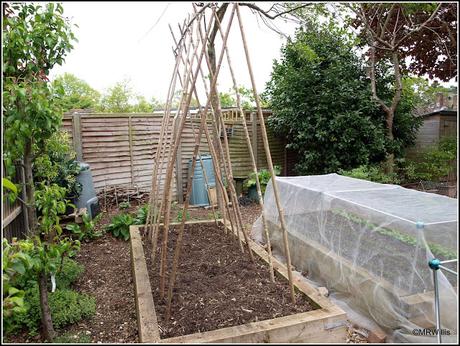 I have put in 7 pairs of poles, with a crossbar along the top for added strength and rigidity.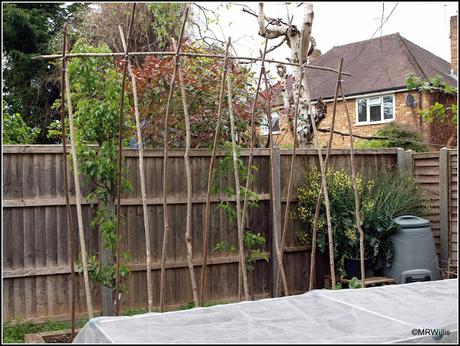 I'll be using this structure to support Runner Beans, and probably some climbing French Beans as well. The weather at present is not conducive to planting out beans, which are very vulnerable to frost, but I expect that by next weekend things will have improved enough for me to risk it.
Random fact: I'm convinced that bean plants prefer Hazel poles to bamboo ones. They seem to find it easier to grip the rough surface of the wood, whereas they find the smooth bamboo quite slippery! When using bamboo I usually have to tie-in the bean plants with some string, to help them hang on.