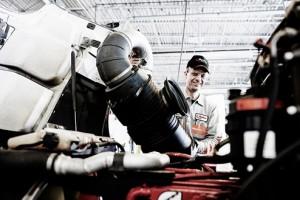 Companies that commit to fleet safety have more tools than ever before to aid their efforts. Technology has enabled most of these newer, preventive innovations that aim to reduce the possibility of vehicle accidents. Having them can also yield savings in the cost of fleet protection.
Many insurers have created new discounts, offering up to 15 percent off the entire cost of protection, if you have certain equipment. The idea is to reward companies that do the right thing for their vehicles and drivers, to mitigate overall risk for everyone on the road.
Cameras that capture activity both inside and outside vehicles are noted as particularly helpful by most insurers. They can go a long way toward proving innocence in the case of an accident, and flag behavior that contributes to losses.
Forward collision and mitigation systems are also seen as helpful safety tools. They reduce rear-end collisions by sensing vehicles in-front of you and by braking for you in the event you haven't done so in time to avoid a collision. Their automatic braking systems are typically set to maintain distances no less than 3.6 seconds from other vehicles. Sensors and vehicle technology systems work together to direct a vehicle to brake automatically when the minimum distance from another vehicle is breached.
Lane departure warning tools, which most insurers take into account for policy discounts, involve cameras and/or sensors that work with vehicle technology systems to warn drivers any time a vehicle begins to drift outside of its current lane of travel.
Spot awareness sensors have blinking lights on rear view mirrors on the driver and front seat passenger side of vehicles to warn the driver whenever a vehicle appears in the blind spot of the mirrors.
These are just a few of the tools available to help with vehicle safety. More are mentioned in the " Together for Safer Roads Partnership: Guidelines for Developing and Managing Transportation Programs," which Ryder helped author. Consider the additional list of safety aids below and how they might benefit your fleet. Remember: Using safety tools to mitigate risk is an important part of fleet management.
COMPANY VEHICLES
To aid visibility:
Spot mirrors
Spot cameras
Reversing alarms
Underrun guards
Rearview camera systems
Side and back up cameras
Electronic stability control: Automatic brake system of individual wheels to prevent the heading from changing too quickly (spinning out) or not quickly enough (plowing out)
Speed limiters: Engine control systems that prevent vehicles from exceeding a set speed limit
Seat belts: Seat belt alarms
Additional vehicle to-infrastructure warnings
Curve speed warning
Oversize vehicle warning
Pedestrian in signalized crosswalk warning
Railroad crossing warning
Red light violation warning
Reduced speed/work zone warning
Restricted lane warning
Stop sign warning
Weather impact warning
Work zone warning
Additional vehicle-to-vehicle warnings
Control loss warning
Do not pass warning
Emergency electronic brake lights
Emergency vehicle alert
Forward collision warning
Intersection movement assist
Left turn assist
Pre-crash actions
Situational awareness
Tailgating advisory
Transit vehicle at station/stop warning
Vehicle emergency response
Authored by Andrew E. Leavitt
Andrew E. Leavitt is Senior Manager of Safety and Loss Prevention for Ryder System.