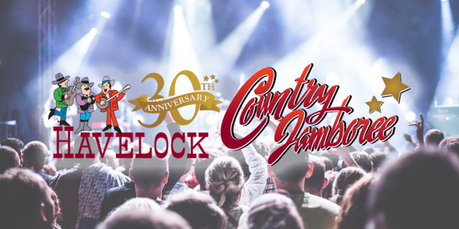 The Havelock Country Jamboree is ready to rock for the 30th year this summer when the music plays from August 15 to 18, 2019!
The tradition of the jamboree continues this summer with more than two dozen artists on the festival's twin stages. So far, we've got 18 artists announced for the four-day musical run, leaving room for more names to be added between now and August. In past years, artists including Alan Jackson, Reba, Dean Brody, Tim Hicks, Terri Clark, Jess Moskaluke, and many many more have drawn crowds from across Ontario and beyond. This year, the festival is bringing in new names to add to the list, along with some returning favourites.
Tickets (including camping packages) are on sale now, with early bird pricing still available!
The 2019 Havelock Country Jamboree lineup includes some amazing Canadian talent, with James Barker Band, The Road Hammers, and Brett Kissel all looking like they'll be headlining. And fan favourites including Meghan Patrick, The Washboard Union, Tebey, and Jessica Mitchell playing in opening slots that country music fans are going to be lucky to see.
There's also a wonderful mix of young, up-and-coming talent on the bill, which is always great to see. Who knows, maybe Havelock attendees will be telling stories someday about the time they saw Kansas Stone or Kelsi Mayne in the summer of 2019.
Check out the list of artists announced for the festival so far (listed by day and in order of appearance on the Havelock Country Jamboree website) and scroll through some of our favourite photos of the acts that we've taken in the past!
30th Anniversary Havelock Country Jamboree Lineup - 2019
Thursday, August 15, 2019
This slideshow requires JavaScript.
Friday, August 16, 2019
This slideshow requires JavaScript.
Saturday, August 17, 2019
This slideshow requires JavaScript.
Sunday, August 18, 2019
🎸 Washboard Hank
🎸 Freddy Vette & His Rhinestone Plowboys