Hello darlings
♡
Ahhh, it's FRIDAY! 
Ever just wake up in the morning & already feel rejuvenated just because of what day of the week it is? I know I do! The start of the weekend is always a start of a good day! That is, if you have the right attitude :) !
**ATTENTION: IN NO SHAPE OR FORM IS THIS ADVERTISING! I HAVE NOT BEEN PAID TO DO THIS POST. THIS IS MY 100% HONEST OPINION ABOUT THE EXPERIENCE I'VE HAD WITH THE PRODUCTS BELOW!**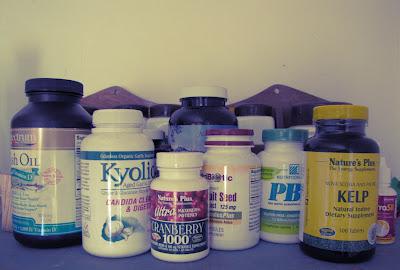 So today will be a post about HEALTH (and a special mom post, in time for Mother's Day.) Now if you've read my post on weight-gain, self esteem & dieting, you'll know I have a firm belief in keeping fit & staying as healthy as possible! Coming from such a fast-paced, move move move city like NYC, stopping by for some fast food on your way to work was the complete norm! And sure, I like to indulge myself every once in awhile, we're only HUMAN! But there needs to come a time where we need to accept & stick by our limits! 
HEALTH IS THE MOST IMPORTANT THING IN ALL OF OUR LIVES, KEEP IT SAFE! 
As a kid with strong allergies & irritation to most foods, I was sick most of my days. And I mean SICK; strep throats, ear infections, flu symptoms every other day. This was 1996. My mother was a fresh-off-the-boat Croatian immigrant who has only been in America for 10 years, barely speaking any English, with a child who was sick all the time & 
pediatricians 
who had no idea what was wrong with me. That's enough to make a woman go 
insane
! I was in so many doctors offices as a child, I've lost count! We had a car, but my mom didn't drive, so we had to jump from train to train, city to city, doctor to doctor. My mother eventually had (and still does have) a huge resentment towards Western medicine & doctors. I mean, can you blame her? These were people with masters degrees in medicine, people who's jobs it was to HELP people. Before even turning 7, I've had MRI's, CT scan (which is horrible, never let your child be exposed to radiation! My poor mother had no idea, she barely knew the language!), had camera's shoved down my throat, into my stomach, sleep studies, emergency room visits...and yet, these professionally
 trained doctors all sucked on their lollipops & shrugged their shoulders, telling my mother, ''She'll grow out of it.'' 
It was like a nerve in her brain popped. One time, after another failed testing, she was so close to JUDO CHOPPING that doctor, a nurse had to escort her out of the office. What do you expect? YOU DON'T MESS WITH A MOTHER HAWK'S BABIES!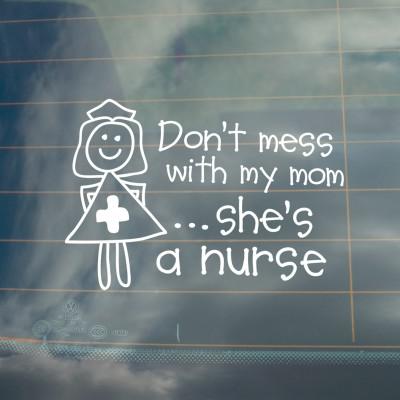 IMAGE FROM GOOGLE!
After years, no one could figure out what the hell was wrong with me. My mother was at her wits end. Before going to work, she would stop by the Barnes&Nobles, where in the little darkly lit corner of the room, with dust forming all around, she found HEALTH BOOKS! Yes, this was the late 90s & early 2000's people, who the hell cared about HEALTHY EATING & NATURAL MEDICINE? We literally had
one
little health store owned by a very nice Indian man in our town, where he sold hundreds of vitamins, dairy-free & wheat-free food. We were in there practically every single day. My mother read & read, that's where she learned most of her English. After lunch, she'd give me a vitamin cocktail, even some horribly bitter drops the kind Indian man suggested for my sinuses. And guess what? They really did help. Finally, when the internet started picking up in households, my older sister & mother searched far & wide for someone to finally figure out WHAT THE HELL IS WRONG WITH TANJA!? This was way before Google! You would look something up, and perhaps 10 links would pop up at the most. And that slow AOL dial-up? UGH, KILL ME! 
To make a long story short, we found an allergy specialist in Long Island, he tested my BLOOD (which every other doctor failed to do), found out I'm allergic to mold & dust mites, and have a strong irritation to dairy-products. My mother changed my diet, she ripped off the carpets, we moved to a mold-free apartment, and lo & behold...I'M THANKFULLY FINE TODAY!
My mom helped me live a happy, healthy life through her constant dedication, love & sleepless nights keeping me safe at night. Nothing compares to the strength of a mother's love 
❤
__________________________________
MY DAILY VITAMIN COCKTAIL!
My mother's teachings have really rubbed off on me throughout the years. As I get older, I try my best to eat healthy, exercise, drink LOTS of water & take my vitamins! My vitamin collection is chicken s**t compared to my mother's, but it's still everything I need! 
1. FISH OIL: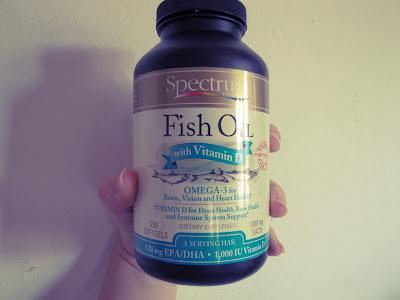 If you're like me, eating fish isn't really something we enjoy doing. I try my best to eat some fresh fish at least once a month, but it defiantly doesn't do it for me. But non-fish eaters lack something that is very important & useful for our body, which is OMEGA-3 fatty acids! I have put my trust in 'Spectrum' Fish Oil for years, and to date, hasn't disappointed! This special blend I include in my vitamin cocktail is blended with Vitamin D, as well! 
Spectrum fish Oil contains the omega-3 essential fatty acids, EPA and DHA. EPA supports heart health, reduces inflammation & improves cellular integrity. DHA supports memory & nervous system functioning. This product contains no mercury or lead, & is made from 
wild-caught, small, plankton-feeding fish that are low on the food chain.
2. GRAPEFRUIT SEED EXTRACT: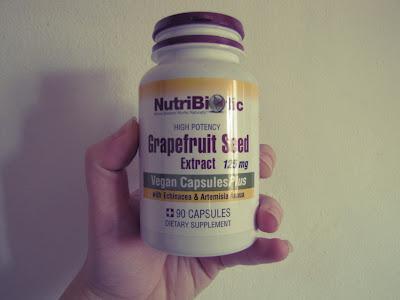 This has freshly been added into my vitamin cocktail! 
Have you ever gotten a nasty virus in the winter season?
 My father & I catch viruses in the winter time like nobodies business! When my mother told me she started giving this to him & he hasn't caught anything for the season, I was shocked! I told her to send me a bottle, ASAP! And by golly, you might not believe me, but instead of getting the usual 5 flus before spring, I've only had 1! And I feel like it boosts my energy after I take my recommended amount! 
NutriBiotic GSE Vegan CapsulesPlus contain Citricidal (grapefruit seed extract), a natural quaternary compound synthesized from the seed & pulp of certified organically grown grapefruit. The process converts the grapefruit bioflavonoids (polyphenolics) into an extremely potent compound that has been proven highly effective in numerous applications. This unique formulation combines Citricidal, echinacea, & artemisia & is used by healthcare professionals worldwide as nutritional support for individuals with certain health concerns. 
3. COD LIVER OIL: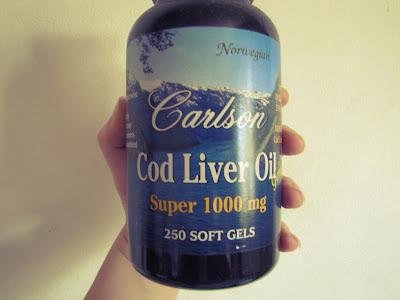 Carlson's Cod Liver Oil, ahhh, this really takes me back! This has been a part of my vitamin cocktail since I was a kid, when my mom first became a health-a-holic. 

Carlson Labs has been around for a long time, the product is defiantly worth the price. Most importantly, it's been tested for toxins, & to this day is labeled safe. 
Norwegian Cod Liver Oil, from the deep, unpolluted waters near Norway, Carlson provides the finest cod liver oil, naturally rich in EPA & DHA. Natural vitamin E has been added to each soft gel to protect the freshness of EPA & DHA, both within the soft gels and our bodies. It promotes healthy heart, arteries, joints, brain-nerve function & bone strength. THIS PRODUCT is regularly tested using AOAC international protocols for potency and purity by an independent, FDA registered laboratory and found to be free of detectable levels of mercury, cadmium, lead, PCB's & 28 other contaminants! 
3. JARROSIL: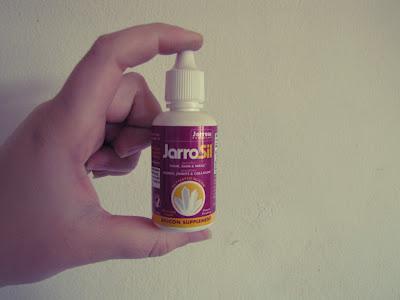 Even though this isn't a vitamin, I make sure to put the recommended 10 drops into the fresh water I'm about to drink! This product is amazing! It is said to strengthen nails, hair & skin texture! As well as bones, joints & collagen! Even though I haven't seen much of a difference in my skin by using this product, I have seen a significant change in the texture of my hair & the strength of my nails! I've always had weak, brittle nails, that usually never grew long. When I started using this product, my nails have never lasted longer! As for my hair, my once thick head of hair had turned weak, thin through years of damage. But thankfully, it's once again strong, thick-feeling & growing! 
JarroSil is a synergistic formulation of highly bio-available silicon. 
5. NATURE'S PLUS- ULTRA CRANBERRY: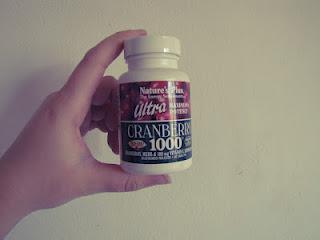 Now I know some of you are probably wondering, ''Tanja, why the heck don't you just drink cranberry juice?'' Well, my dears, Cranberry juice with absolutely NO sugar added is hard to find, & when I do find it, I just can't stand drinking it. The taste of pure cranberry is too strong. That's why I'm happy Nature's plus created this handy-dandy cranberry supplement! Due to the high-yeast content in my body from constant antibiotics prescribed to me as a child & beyond, my urinary tract system is very sensitive & can get infected easily. So, to prevent that painful experience, I take Nature's Plus Ultra Cranberry 1000. 
Ultra Cranberry 1000 is the highest potency, highest quality cranberry supplement stated to be ''ever'' formulated. Just one sustained release tablet supplies an unprecedented 1000 mg of pure cranberry juice solids. It has never been easier to receive the numerous benefits of this healthful berry. As part of its commitment to quality, Nature's Plus always uses the most current, controlled techniques to prevent the damaging effects of moisture, light and oxidation for all its products.
Liked this health-related blog post? 
Have any questions, comments, concerns? Let me know. Until next time,
Stay beautiful 
❤
-Tanja xoxo