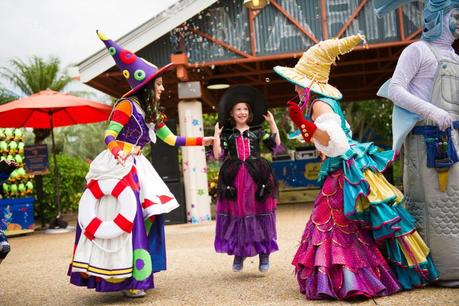 Our favorite time to travel is the fall, and it is then that they host is Sea World's Halloween Spooktacular on the weekends starting earlier than ever before - in September - for six weekends of family fun. Halloween Spooktacular returns to SeaWorld Orlando, where everyone's favorite furry friends from Sesame Street as The Count, Elmo, Abby and others take the stage in͞ Sesame Street's Countdown to Halloween. It's so much fun, especially for kids who love their Sesame Street pal's to see then dancing around.
Families can also join the Halloween Dance Party, where they meet whimsical characters inspired by the sea. For this special event children can dress in their Halloween costumes and take part in fun-filled trick-or-treating in the park. It's a underwater "fantasea" including trick-or-treating, whimsical sea creatures, and more in this family-friendly event that could only come from SeaWorld.
Best of all, there's no extra charge to enjoy all the fun that includes arts and crafts, dancing, and going on a treasure hunt. Kids can hunt for hidden "sea" treasures using their Spooktacular maps throughout fifteen different locations in the park. And, it 's a fun way to explore all the animals and attractions along the way.
TripAdvisor Travelers' Choice awards have recognized Sea World Park and Entertainment for its parks on several occasions, and it's no wonder. Whenever we've visited any of the Sea World Park's they have always been clean, the staff courteous and helpful, the prices have been affordable, and the rides and experiences get better every year. Check out all the fun and festivities available and book your tickets by visiting the Sea World website.
About The Author
For Melody Schubert, life is simple; embrace moments with family and friends. And, when it comes to traveling, maps are good for returning to the highway. It's more fun to let your imagination be your compass and wander off the beaten track to discover overlooked destinations that express the heart of a region. Where will your compass take you?