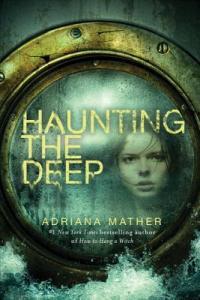 Book Cover Image: Haunting the Deep by Adriana Mather
" data-orig-size="267,400" sizes="(max-width: 200px) 100vw, 200px" aperture="aperture" />
BOTTOM LINE: Magical fun
Genre: Young Adult; Fantasy; Mystery
Publication Date: 03 October 2017
Source: Publisher via NetGalley
Synopsis from the Publisher:
"Samantha Mather knew her family's connection to the infamous Salem Witch Trials might pose obstacles to an active social life. But having survived one curse, she never thought she'd find herself at the center of a new one.

This time, Sam is having recurring dreams about the Titanic . . . where she's been walking the deck with first-class passengers, like her aunt and uncle. Meanwhile, in Sam's waking life, strange missives from the Titanic have been finding their way to her, along with haunting visions of people who went down with the ship.

Ultimately, Sam and the Descendants, along with some help from heartthrob Elijah, must unravel who is behind the spell that is drawing her ever further into the dream ship . . . and closer to sharing the same grim fate as its ghostly passengers."
My Thoughts: I will say one thing for Adriana Mather's ancestors. They are certainly an impressive lot. Directly descended from Cotton Mather himself, she puts those ancestors to good use. This time around, finding a letter from an ancestor who actually survived the Titanic serves as the inspiration for her newest novel. Haunting the Deep is another entertaining, suspenseful mystery with plenty of teen snark, magic, and a dash of romance.
There really isn't much to the story. It takes place six months after the first novel, and Sam is still experiencing some trauma from what happened to her and to the Descendants. When the theme of this year's Spring Fling is announced, Sam just wants her life back to normal. Except the theme seems to mirror her recurring dreams about the Titanic. Suddenly enchanted objects start wreaking havoc, and the Descendants and Sam realize they have another magical foe on their hands. Who that person is, what this person wants, and just how far this person is willing to go to get it remains to be seen, but Sam soon realizes time is running out. The rest of the novel is a rush of magic, secrets, and danger.
Haunting the Deep is the type of novel you read purely for entertainment. It is not a story through which you will learn about yourself or begs for introspection. It does not explain society or provide historical information. It is simply a fun, escapist novel about witches that just happens to tie to the author's own ancestry. And there is absolutely nothing wrong with this.












Related Stories
Special Guest Post by Holly – Follow Me by Sara Shephard
Hunting Prince Dracula is everything I hoped it would be and more
Fireblood is on fire