When I heard the news that two of my favorite beauty YouTubers had teamed up with Cult Beauty to create their very own Cult Beauty Box, I couldn't wait to see what the box contained and I wasn't disappointed!
Anna from Vivianna Does Makeup and Lily from Lily Pebbles hand picked 7 of their favorite products to include in the The Cult Beauty Box by Anna & Lily.
I couldn't resist purchasing a box as all of the products included are ones I've been wanting to try for so long and they suit my skin type and makeup preferences perfectly! Another great thing is that not all of the products included are readily available here in Australia so the box really allows you to try new products and brands.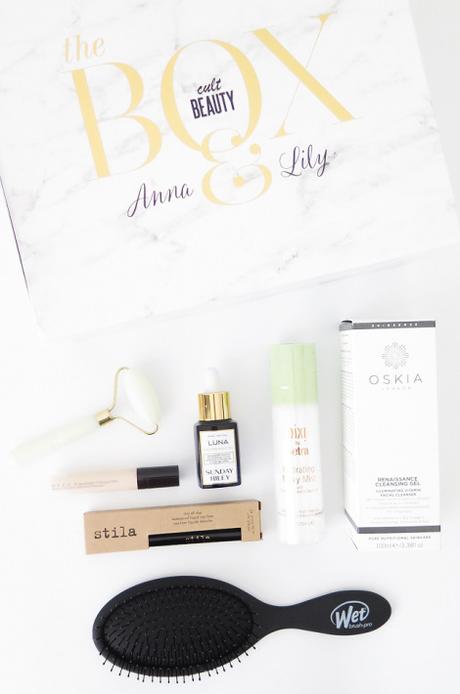 With 7 items in total, 5 products included are full size while the other two are described as 'travel sizes'. Here is a breakdown of what products were included and a comparison with their Australian prices if they were to be purchased individually!
 
FULL SIZED PRODUCTS:
Oskia Renaissance Cleansing Gel (100ml) – Retails for AU $48.60 from Beautybay.
Pixi by Petra Hydrating Milky Mist (80ml) – Retails for AU $33.40 from Beautybay.
Yu Ling Jade Facial Roller (Medium) – Retails for £28.00 on Cult Beauty, approximately AU $55.00.
Wet Brush Pro Classic – Retails for AU $19.95 from RY.
Stila Stay All Day Waterproof Liquid Eyeliner – Retails for AU $33.00 from Mecca.
 
TRAVEL SIZED PRODUCTS:
Sunday Riley Luna Sleeping Night Oil (15ml) – The full size (30ml) retails for AU $163.00 from Mecca, this half size sample is equivalent to AU $81.50.
Becca Backlight Priming Filter (7ml) – The full size (30ml) retails for AU $65.00 from Sephora Aus, this 7ml sample is equivalent to approximately AU $15.00.
 
TOTAL PRICE IF PRODUCTS PURCHASED INDIVIDUALLY: AU $286.45
 
The box retails for £85 (with FREE worldwide shipping) but those purchasing from countries outside the EU have a portion of tax removed from the price. My box came to a total of 70.83 GBP which was 141.50 AUD on the day that I purchased it. As you can see from the comparison between the box price and individual Australian retail prices for the products, this box was an absolute bargain as I basically paid half price for all the goodies!
I would highly recommend thinking about purchasing this box for both the amazing range of products and discounted price! I will keep you all updated on how I find all of these products but do let me know if you would like specific reviews on any of the inclusions.
What are your thoughts on this box?


| Bloglovin' | Facebook | Twitter | Instagram |