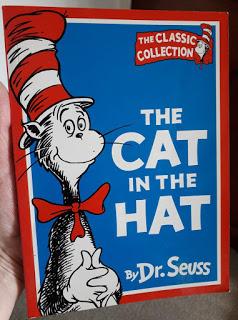 My mother had a pill-box hat made of tiny pale blue feathers sweeping round the circular shape. She wore it for my aunt and uncle's wedding. She didn't like hats much. They were for church and special occasions. A headscarf would do for popping to the shop, a stroll on the windy promenade or for keeping her hair neat on the walk back from the hairdressers.
My granddad never went out without his signature tweed Trilby. He might have had more than one, I don't know, but he didn't object to me dressing up in it when I was little. The inside rim was shiny with his Brylcreem and it smelt sweet, like him.
I've recently been knitting cardigans and matching hats for my new baby granddaughter, Matilda. I love making children's clothes and each item is a one-off, for a particular little person.
Crochet is not my speciality, I'm a bit hit and miss with it, apart from Afghan square blankets, but I managed to design and make Minion character hats for a local primary school Christmas Fayre. I'm not looking to give up my day job on the strength of it, not just yet.
I miss working with infants, especially literacy and reading. There is so much to learn from the four-to-sevens when looking at their world and listening to their stories.The developing imagination of a child is fascinating. I'm starting to introduce well-loved stories and poems to my grandchildren. A current favourite is The Very Hungry Caterpillar. Soon we'll be on to Dr Seuss and Edward Lear. I don't mind if they grow up thinking that I am completely bonkers as long as they remember having lots of fun. And that I always dressed 'in character' for the benefit of the children who knocked on my door at Hallowe'en.
Apart from my black, pointed, witchy thing with the illuminated spider on the side, I'm not really one for wearing hats. I have a couple of home-made knitted ones for very cold weather that also keep my hair off my face in the wind. I've got a wide-brimmed sun hat for sitting in the garden and a 'posh' hat that I wore for a wedding, once. Me and hats don't get on. It's really my hair. I'm burdened with very fine, flyaway hair that reacts badly when I take a hat off. Most of all, I hated my compulsory senior school hat.
Someone else must have hated my school hat, too, because the first thing she did when she got on the same bus home was to grab it off my head and kick it all over the dirty floor, encouraging her friends to join in. This was a slightly older girl from another school. I knew her by sight from being in the year above me at the same junior school. I would already be on the bus for a short time before it reached her stop and I would dread her arrival. She snatched the hat out of my hand once, when I tried to stop her getting it and another time it was my satchel that got thrown all over the place. Eventually, I agreed that my mother should intervene and she telephoned a complaint to the bully-girl's school. Whatever was said and how it was dealt with worked. There was no alternative, we had to share the same bus, but she never bothered me again.
Amongst my special keep-sakes is the beautiful hat my late mother-in-law chose to wear for our wedding. It's a pretty, navy blue satin pill-box hat, trimmed with navy net and a bow of navy velvet. A memento of a lovely lady from a wonderful day.   I hope my choice of an Edward Lear poem raises a smile,    
The Quangle Wangle's Hat
I 
On the top of the Crumpetty Tree 
  The Quangle Wangle sat, 
But his face you could not see, 
  On account of his Beaver Hat. 
For his Hat was a hundred and two feet wide, 
With ribbons and bibbons on every side 
And bells, and buttons, and loops, and lace, 
So that nobody ever could see the face 
  Of the Quangle Wangle Quee. 
II 
The Quangle Wangle said 
  To himself on the Crumpetty Tree, — 
"Jam; and jelly; and bread; 
  "Are the best of food for me! 
"But the longer I live on this Crumpetty Tree 
"The plainer than ever it seems to me 
"That very few people come this way 
"And that life on the whole is far from gay!" 
  Said the Quangle Wangle Quee. 
III 
But there came to the Crumpetty Tree, 
  Mr. and Mrs. Canary; 
And they said, — "Did every you see 
  "Any spot so charmingly airy? 
"May we build a nest on your lovely Hat? 
"Mr. Quangle Wangle, grant us that! 
"O please let us come and build a nest 
"Of whatever material suits you best, 
  "Mr. Quangle Wangle Quee!" 
IV 
And besides, to the Crumpetty Tree 
  Came the Stork, the Duck, and the Owl; 
The Snail, and the Bumble-Bee, 
  The Frog, and the Fimble Fowl; 
(The Fimble Fowl, with a corkscrew leg;) 
And all of them said, — "We humbly beg, 
"We may build out homes on your lovely Hat, — 
"Mr. Quangle Wangle, grant us that! 
  "Mr. Quangle Wangle Quee!" 
V 
And the Golden Grouse came there, 
  And the Pobble who has no toes, — 
And the small Olympian bear, — 
  And the Dong with a luminous nose. 
And the Blue Baboon, who played the Flute, — 
And the Orient Calf from the Land of Tute, — 
And the Attery Squash, and the Bisky Bat, — 
All came and built on the lovely Hat 
  Of the Quangle Wangle Quee. 
VI 
And the Quangle Wangle said 
  To himself on the Crumpetty Tree, — 
"When all these creatures move 
  "What a wonderful noise there'll be!" 
And at night by the light of the Mulberry moon 
They danced to the Flute of the Blue Baboon, 
On the broad green leaves of the Crumpetty Tree, 
And all were as happy as happy could be, 
  With the Quangle Wangle Quee.
by Edward Lear,  1812 - 1888
Thanks for reading, Pam x
·

  
·

  
·

  
·

  
Email This
BlogThis!
Share to Twitter
Share to Facebook
Reactions: