vintagefashionnews.com
Continuing to ride the vintage wave, I love that jewelry is as popular as vintage clothing.  Every girl knows that accessories make an outfit.  These days, that notion holds stronger than ever.
When we think of costume jewellery, there is only one person considered the queen.  Miriam Haskell essentially started the movement back in the roaring 20's.  Her pieces were far less expensive than precious gems or metals, so her beautifully designed items were very popular at her first boutique in New York City.  For the first time, design became important, not just the expensive components.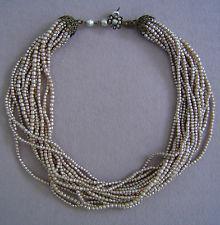 ebay.com
Haskell's famous Baroque pearls "which include clusters of wired seed pearls that were strung on high-tensile brass wire to form delicate flowers and abstract designs, she also incorporated the finest cut rhinestones, beads & other materials imported from France and Italy. Her designs draw from many cultures, including South America, China, Greece and the US southwest."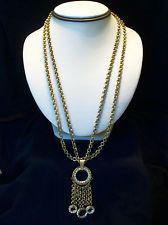 ebay.com
Designer Frank Hess was instrumental in many of the famous creations.  Collectors are seriously in pursuit of some of his more elaborately designed pieces.
If you happen upon one at a good price, snatch it up before someone else does.  You'll love wearing it and knowing that Haskell's historical jewelry remains very popular and increasing in value.
Quote

from vintagefashionnews.com
Carol