Hello ladies,
What a better day than today to post this review. Eid Mubarak to all my Muslim friends and family. The product I shall review is called Hashmi Kajal.Hashmi Kajal is a product of Hashmi Surma which is made in Pakistan. They have many varieties of Kohl/ Kajal in the form of paste, powder(which is actual surma) , the lipstick form and one in the tube with a small stick wand. They also sell Rose water.The one I will review is in the lipstick format..... Let's see how good it is...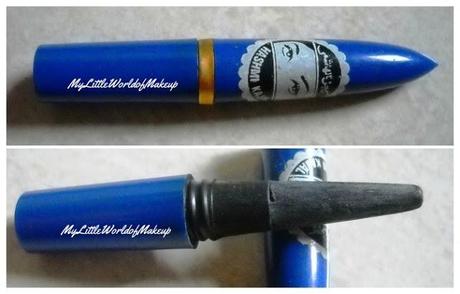 Ingredients:

Zinc Oxide,Waxes, Amorphous Black, Butter Oil, Cinamomum & Camphora.
Price : Rs. 50/- I got it for 35 bucks at Beauty Centre in Mumbai.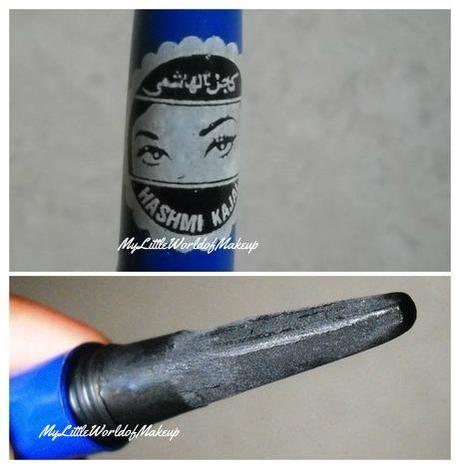 This is what the company says( As mentioned on their website) :
High definition Hashmi Kajal Stick is a friendly- flow formula, with a smooth and sleek felt tip that is especially designed by our R&D Dept. to cater your eyes the very best backstage finishing look to create a more vibrant and dramatic look that madly elaborates your eyes. The slim-line felt tip is best at obtaining a precision line. The sheer water proof textue of this Kajal prevents dragging around the sensitive eye area. It delivers the tan and precision without any fading, mess or spills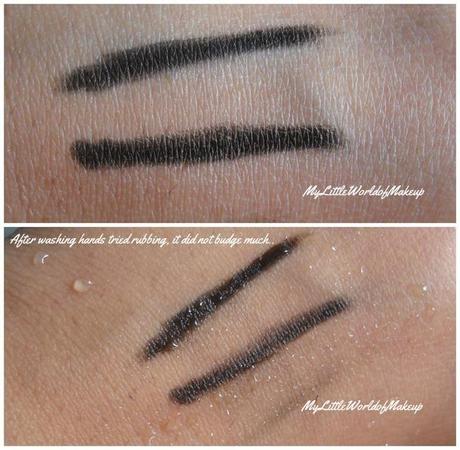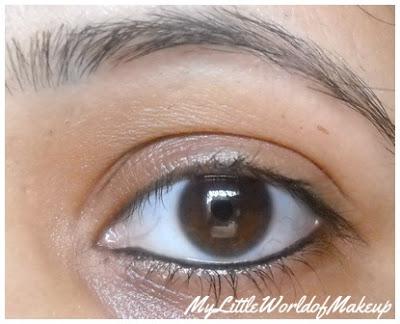 This kajal comes in a slim and tall tube in the form of a lipstick and the tube is blue in color. It comes in a red packaging too. The brand name is imprinted on the cap. There is nothing so special about the packaging but what is inside is truly worth the money. You need to twist the cap to open.Once you open there is a tall stick of kajal which when you look at the first time would wonder if it is drying or what? Even if you swipe it on the hand it may seem a bit drying but once you apply it on the eyes, you will be truly amazed. The kajal is dark black in color and you may have to do multiple swipes to get the desired effect.For me a few swipes and I am done. I personally did not  wear kajal a lot until sometime back when I found out about this kajal. The kajal stays on for 6 hours on my eyes and there is hardly any smudging. It does not cause any tugging or cause any discomfort when used on the waterline.You can even tightline your eyes using this kajal. If you wanna smudge this kajal you must do it immediately because once it sets it will go nowhere.It claims to be water proof which is true if you check the picture. I washed my hands with water and tried rubbing but it hardly budged. The only thing  you need to be careful is when you open and shut it because it may break if you will apply a lot of pressure which is like most kajals. This is definitely my favorite kajal  and will always be for its formula.
The Good:
Available everywhere, even online.
Inexpensive.
Jet Black color.
Water proof.
Smudge proof
Long lasting.
Old and trusted company.
The not so good:
Need to be careful while opening and closing.Rating : 4.9 /5 

I am truly loving this kajal and would recommend everyone to try it. There were talks about the lead content in this kajal but it is not true and is completely safe to use. I would highly recommend you to try this of you have not.
I hope my review was helpful. Please feel free to say something.
Thank you for your time.
Regards, 
Natasha :)DISCLAIMER: The above product has been purchased with my own money. This is not a paid review. My review is honest and based on my experience with the product over a period of time. Please note what may work for me,may not work for you and vice versa.