I harvested my first potatoes of the year this morning. This much-anticipated event is one of the highspots of the gardening calendar!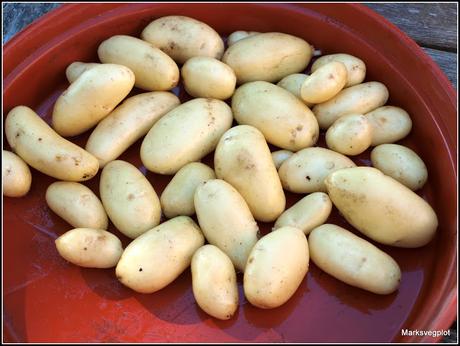 This year I have 16 tubs of potatoes, each planted with one or two tubers. I don't want to have them all mature at once, so it makes sense to start picking as soon as they have viable tubers, even if the individual tubers are not huge.
First up this year is "Belle de Fontenay", a First Early variety, planted on March 11th. The foliage had gone quite yellow and was beginning to die down, which is a sign that the plant has produced tubers. To get the maximum yield it is best to wait until the foliage has completely died down, but I was impatient!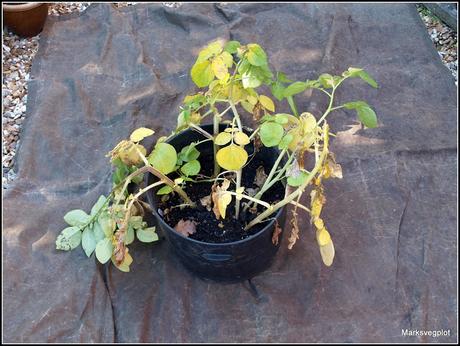 This is the Big Reveal - that moment when you finally get to see the size of the crop. You always think "Oh no, there's nothing", but then you see the little golden nuggets lurking in the compost...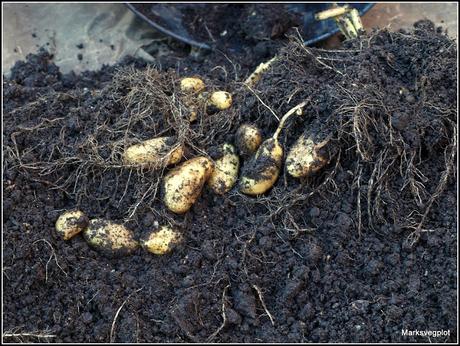 Actually, this year the spuds have not been growing in compost, but in plain garden soil, taken from the two raised beds I demolished in the early Spring. My decision here was also heavily influenced by my past poor experiences with commercial compost!
This is what came out...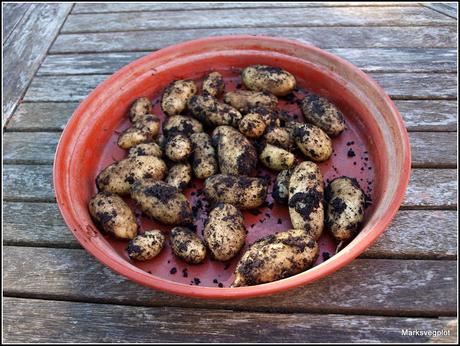 After washing, they looked a sight more appealing - lovely smooth skins too. They weighed 533 grams.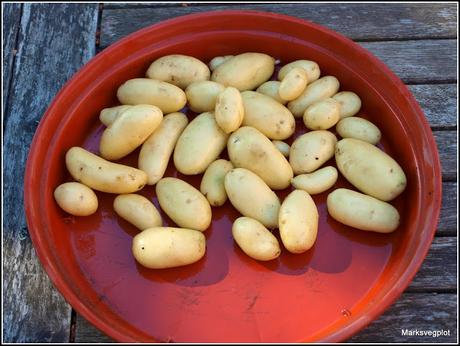 Some while ago I wrote about my decision to adopt a simpler, less-fuss approach to growing my potatoes this year. All I did was half-fill the tubs with soil, mix in a handful of Growmore general-purpose fertiliser, and then plant the seed tubers two or three inches below the surface. No earthing-up later or anything. One or two of the potatoes have green patches where they grew close to or above the surface of the soil, but the vast majority are fine, good-quality spuds.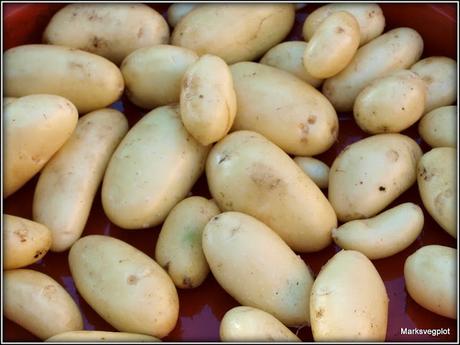 These potatoes are destined to be eaten tonight. With "New" potatoes, the sooner you eat them the better, because as they age they tend to become firmer and lose some of the sort of creamy texture that a freshly-dug potato has.