I Think Harry has been smoking good stuff. Nitwit.
————————————————————————————————–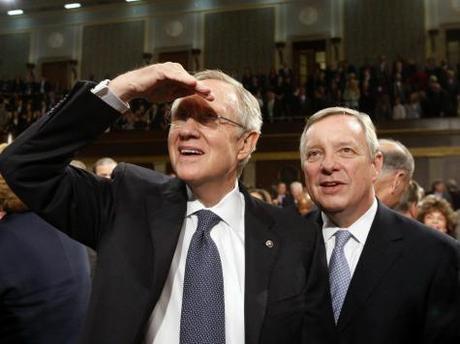 Durbin-Reid-Reuters 
As tens of thousands of illegal aliens stream across our southern border, completely overwhelming border patrol and generating a humanitarian crisis, Nevada Senator and Democrat Majority Leader Harry Reid has a message for the nation:
our border is completely secure.
by WARNER TODD HUSTON 15 Jul 2014
Reid appeared at the Senate Democrats' weekly policy lunch and told reporters, "The border is secure. [Sen.] Martin Heinrich talked to the caucus today. He's a border state senator. He said he can say without any equivocation the border is secure."
Senator Reid also claimed that there is no need to make any changes on how quickly illegals are deported. The Senator claimed that there is enough "leeway" in current laws to give the executive branch the tools to do what needs to be done.
Reid also dismissed a bipartisan bill proposed by Senate Republican John Cornyn and Democratic Rep. Henry Cuellar, both from Texas, as "too broad."
"From all the reports I've gotten, the answer for me is no, I won't support it," Reid claimed.
The Nevadan called the humanitarian crisis on the border a "narrow issue" and insisted that Obama's request for 3.7 billion additional dollars for the border is the fix that Congress should be concerning itself with.
Reid isn't the only Democrat to indulge this head-in-the-sand political position. Texas Democrat Sheila Jackson Lee was also heard saying that the border is "under control"despite the truth staring her in face.
Meanwhile, on this border that is perfectly secure, an illegal alien that was deported four other times after being convicted of the sexual assault of a 9-year-old girl was caught once again sneaking across the border.
Leaked intelligence for this border crisis also speaks directly against some of these Democrats' claims that the reason for this wave of illegals is merely a rising rate of violence in Central America.
Rest Of Breitbart Story HERE!
~Steve~