If a woman says she broke her ribs, dislocated her shoulder, and sustained bruises and broken bones in her face from "exercising" — her second "exercise" injuries in three years — what would you think?
Would you believe that she got those injuries from exercising, or would you suspect some other reason, like spousal abuse?
If you suspect the latter, why would you think differently if it isn't a woman, but a man?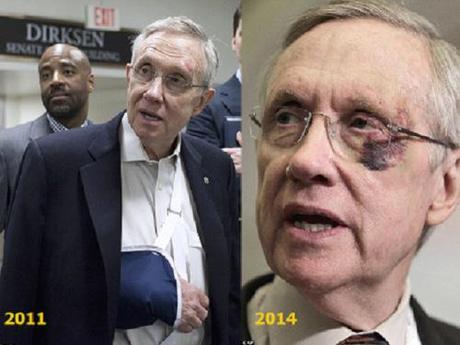 Harry Reid's "exercise" injuries
David Martosko reports for The Daily Mail, Jan. 2, 2014, that reporters were told by the office of 75-year-old Senator Harry Reid (D-NV) that he had broken some ribs and facial bones on Thursday while exercising at his home in the Las Vegas suburb of Henderson, Nevada.
"A piece of equipment Senator Reid was using to exercise broke, causing him to fall and break a number of ribs and bones in his face," read a statement from his office. His doctors "expect a full recovery" and Reid will return to Washington this weekend and be in the office Tuesday as the new Senate prepares to reconvene and Reid steps down as majority leader.
In May 2011, Reid dislocated his shoulder, bumped his forehead, and sustained a contusion just below his left eye when he slipped and fell during a morning jog in the rain. Reid was leaning on a wet car near his home in Washington, D.C.'s Ritz-Carlton hotel when he tumbled to the ground.
Some choice comments by Daily Mail's readers:
Whenever I hear of Harry Reid having an "accident," I always think it's more likely that his Nevada m o b friends have paid him a visit.

I got hit in the face by a barbell. That's my story and I'm sticking to it.

How does some one break their face while exercising? Reid either fell down stone blind drunk, or got punched making advances at one of the page boys.

Exersise equipment failure ….. so that's what they call it now …. Back in the day, we just called it what it was … falling down drunk.

I doubt it was an exercise accident. Probably a warning to keep his mouth shut.

Very sorry to learn his injuries were so mild.

Reid, retire Already you greedy old man!

He'll be fine. This won't hinder his ability to tell a lie one bit.
H/t FOTM's maziel
~Eowyn