Karita Mattila's Saturday night recital offered an evocative selection of sensual art songs from the late nineteenth and early twentieth centuries (full listing here.) Partnered with Martin Katz, Mattila spun hypnotic melodies of
fin-de-siècle
seduction. I was bewildered, however, both by the number of empty seats and by the behavior of those who were there. In the first half of the program, applause from all levels came after each song, persistent, but sounding almost perfunctory. There was welcome silence during the Sallinen set, and then applause after two of five songs by Joseph Marx. I wanted to tell the applauders to take a glass of absinthe and relax, and let Mattila and Katz work their magic uninterrupted.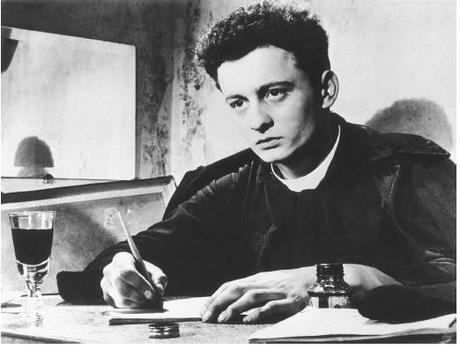 Poulenc, date unknown
The first half of the recital was devoted to cycles by Poulenc and Debussy, both structured around the texts of a single poet to whose work the composer was specially drawn. Poulenc's 
Banalités,
with texts by Apollinaire, comprised a series of vignettes united by wry wit rather than mood, from the lightly satirical "Chanson d'Orkenise," to the sensually languorous "Hôtel," through the poems to place that are "Fagnes de Wallonie" and "Voyage à Paris." The last song in Poulenc's cycle, "Sanglots," moves the furthest from realism, taking the listener through a series of romantically morbid images. The virtues of Katz' sensitive accompaniment were on full display here, as he let single notes and richly rolling chords convey equal intimacy of despair. Debussy's 
Cinq poèmes de Baudelaire
, setting poems from
Les Fleurs du Mal
, continued our odyssey into impressionistic treatments of romantic love. Although Mattila's voice sounded somewhat exposed and fragile at the top, she sang with beautiful coloration of tone throughout, and admirable attention to text. (I was glad of having the texts open on my lap, for I didn't catch every syllable, but she treated the many examples of wordplay or extended metaphor with intelligence.) Here, too, Katz was her worthy partner in drawing out the expressive richness of Debussy's harmonies.
After the interval, Mattila gave Aulis Sallinen's
Four Dream Songs
, Op. 30; for me, the set was the highlight of the evening (she 
recorded them
some time ago.) Composed in 1972, the songs fit seamlessly into the darkly romantic mood of the rest of the evening. Eerie, haunting dissonances underlay the sometimes frantic, sometimes dreamlike vocal line. The first song, "Unesta tehty mies" (Man made from sleep) was my favorite of the group, but Mattila gave them all with introspective fervor matched by the nuanced, passionate playing of Katz. The recital was closed with five richly romantic lieder of Joseph Marx, "Nocturne," "Waldseligkeit," "Selige Nacht," "Valse de Chopin," and "Hat dich die Liebe berührt." Mattila and Katz treated the songs with admirable nuance (though without an emotional restraint which might have done them a disservice.) Mattila again demonstrated fine sensitivity to text, bringing out the painful parallels in
Sinnen
and
Schmerzen
in "Nocturne." The program misprinted the lovely final lines of "Waldseligkeit":
Da bin ich ganz mein eigen / ganz nur Dein!
but Mattila sang them correctly. It was intriguing to contrast Marx' setting of "Valse de Chopin" with that of his contemporary Schoenberg; and "vernichtungssüchtger Reiz" sounds great in both. The exultant "Hat dich die liebe berührt" closed the set, and Mattila and Katz embraced warmly, and were warmly applauded. Mattila gave "I could have danced all night" as a high-spirited encore (complete with dancing); it was a treat to see her and Katz openly enjoying themselves together, as the success of the evening's partnership suggested they must. In response to audience clamor, Mattila generously gave a second encore of a Finnish folksong. "I didn't spend much time preparing encores," she explained, "but I know all the words to this one." She and Katz gave it with panache.