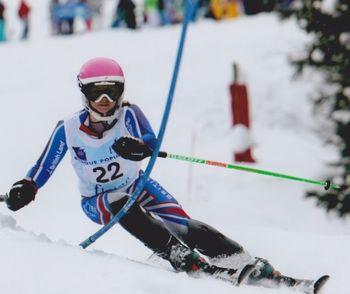 Our favorite young ski racer, Honor Clissold, has had a mixed season so far as she is training hard to consolidate new technical elements into her skiing. This is the last season she will be under the Childrens classification - and  in preparation for moving up to Junior level next year Honor has been training with both the Juniors and Children with Team Evolution, the expert coaching team which Honor first joined around 18 months ago.
During the summer, with Team Evolution in Chile, Honor had the opportunity to fore-run some FIS races - which went well for her and gave her the chance to experience FIS level racing. So far this season the varying weather and conditions have meant that some of the fixtures she hoped to take part in have been cancelled, and her first races were in Czech Republic at the Nationals in January, quickly followed by the British Schoolgirl Races in Flaine. She performed well in both events - despite falling in the first run of the Flaine GS, she won the second run overall by 3 seconds. In slalom, which she has considered her weaker discipline, she won her age group and was third overall.
Honor is also one of the GB Children's Ski Team and her next races will be at the English Alpine Races over half-term in Bormio. She continues to work and train hard - and in her time out of skiing she still continues to do a lot of other sports, having represented the North of England in Tetrathlon (running, swimming, shooting and cross country riding), and was part of her school showjumping team which went to Windsor.
In his article Ski Racing is One Brutal Sport, Dr Jim Taylor explains why ski racing is possibly one of the hardest things to do - aside from the physical demands, the psychological toughness required is extreme;
"Alpine ski racing also takes you for a ride on an emotional roller coaster. You can feel inspiration, excitement, joy, and pride one run and then frustration, anger, despair, and disappointment on the next run. Because you care about ski racing so much, you feel these emotions powerfully and frequently."
Although it may appear pretty glamorous on the outside, ski racing, even as a teenager, requires strong commitment and focus, a rigorous physical programme both on and off snow, and nerves of steel in the gates, as well of course as getting homework done and keeping up with schoolwork.
Here's a clip of Honi training GS - best of luck for the rest of the season!