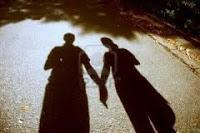 Marriage is a learning experience where both individuals grow together toward a singular destination and it is during the journey, we continue discover each other.  Almost three years in to marriage, which arguably begins to feel like thirty, you would think you know everything there is to know about your partner but like life, you'll be surprised.


On a wintery night, we sat watching a little bit of telly when I leaned across to try and cuddle Mrs.B. Pushing me away she kept asking me to leave her alone but I wanted my cozy cuddle and continued trying only to be pushed away repeatedly. I decided to pull out the words she used to long for; the words that made her melt and wobbly at the knees. I reached once more for an embrace while stating,

'But, I love you…'

To which she extended her arms, pushed me away once more and responded with,

'Okay, thank you!'
Marriage Tip No. 57: First comes Love, then comes marriage, then comes the 'thanks', then comes the baby in the carriage!


Welcome to our thankful marriage!