The day in this region started off on a happy note, with the simultaneous arrival in Sydney Harbour of the luxury ocean liners
Queen Mary 2 and the Queen Elizabeth.
It must have been some sight and I'd have liked to have seen it - too early for me to be there though, not being a morning person.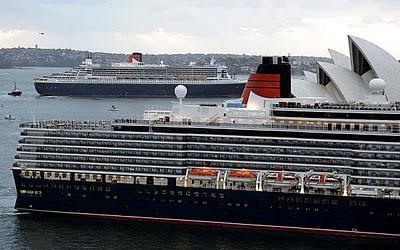 Photo: AP Sydney Morning Herald


The harbour was full of leisure boats to welcome the liners and the foreshores were full of people wanting to see and welcome the two monster ships.
A typical happy and pleasant morning in Sydney.
But then later in the morning we started getting news of a big earthquake in New Zealand, which hit Christchurch city centre at lunchtime. The worst possible time, the city centre full of workers, shoppers and sightseers.
It's still chaotic and news is being updated, and getting worse, by the minute. There are many dead, sixty-five so far confirmed, and inevitably there will be more casualties found as rescue teams search the rubble. Numerous people are reported trapped.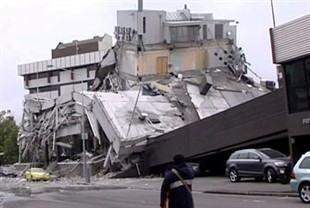 Photo: ninemsn.com.au
Buildings have collapsed, especially the historic old ones. The beautiful Christchurch Cathedral has been badly damaged, the spire has crashed into the street and there's rubble all around the building. 
Two crowded buses have been crushed by falling buildings as have cars with people in them.


Photo: Getty Images ninemsn.com.au
The city doesn't have enough ambulances to cope and residents from the outer suburbs are driving into the centre to help rescue people and take them to triage centres in their private vehicles. 
An eyewitness on radio as I'm typing is talking about being able to smell smoke from fires and having seen broken water mains flooding roads. He says the roads are corrugated and overall infrastructure damage is huge.