By Patricia Winton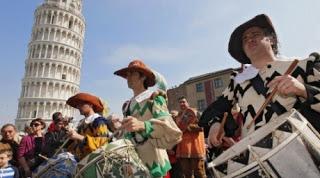 If you got off to a slow start this year, if you've lagged behind in keeping your resolutions, if 2013 is shaping up to be a bad year, take heart. You can join the Tuscan city of Pisa and celebrate New Year 2014 on March 25.
The stile pisano—Pisan style—dates back to 985 AD. The New Year begins on the day of the annunciation, which is when the Angel Gabriel announced to the Virgin Mary that she would become the mother of Jesus. The date, March 25, is nine month before Christmas, the birth of Christ.
The Pisans, known both for warring with other cities and engaging in trade, took their calendar with them to such cities as Milan, Padua, and Pistoia. In 1749, the Grand Duke of Tuscany decreed that the entire Tuscan region should follow the Gregorian calendar—the one we use today.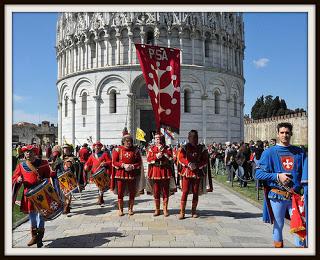 This decree did not please the Pisans who continued to count the years in their own style in private. To use the Pisan style, you date January 1 to March 24 like the Gregorian calendar, but from March 25 forward, you must subtract one year.
This practice eventually died out, but in 1999, historical society researchers found archives detailing these old New Year's celebrations, complete with menus. The Pisans, recognizing a good commercial venture, reinstated the celebration as a kickoff to the tourist season. Last year, 40,000 people from outside Italy traveled to Pisa for the event.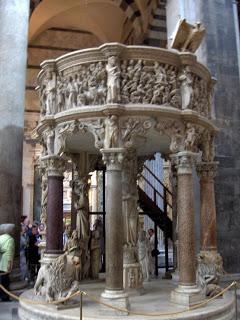 Pisano pulpit
The ceremonies begin this year on Saturday, March 23, with events throughout the city, ranging from reenactments to equestrian demonstrations, continuing Sunday. On Monday a parade of people in medieval dress ends in the Field of Miracles, the area where the cathedral, the baptistery, and the leaning tower sit. Inside the Romanesque cathedral, there is a religious ceremony ending precisely at noon. At that moment, an astronomical event occurs. A ray of light floods a round window in the cathedral dome and strikes a marble egg, symbolizing fertility, next to the Giovanni Pisano pulpit. And that, for the Pisans, marks the beginning of the new year.
So if you need a new start, join the Pisans. Buon Anno 2014.