As usually, I'm a little late with this, but who cares, I didn't have the time.
After changing the name of this monthly write-up last time, I also decided to adjust the structure a bit this month. Hope you'll like the changes.
Seen on Silver Screen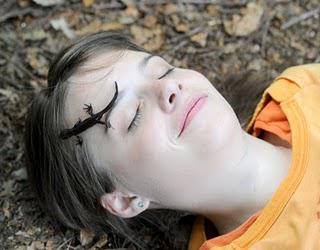 Ein Tick anders
Ein Tick anders
(2011) Andi Rogenhagen - Germany
A beautiful, humourous film about a teenage girl suffering from the Tourette-syndrome. As an exception from a numerous amount of other films dealing with "retarded" people, this film never gets sulky, nor does it look at the "retard" as un-normal people who you can laugh about, like many Salman-films (Indian superstar, for those of you who don't know him). It reminds of last years award-winning German "Vincent Will Meer" in various aspects, but is lighter and more realistic, and for me easier to relate to, because the leading character is a teenage girl. It's also predictable in many terms, but that doesn't degrade it to an "okay" film only, in my opinion.
Rating: 7.0
The Infidel
(2010) Josh Apignanesi - UK
I heard some people from New Zealand complaining about
Hanna
 arriving at their cinemas after about 6 months - now this one (like most rather unknown, non-American films) reached Flensburg after about one year! Not that I had anticipated - in fact, I didn't know anything about it until I decided to watch the trailer on my weekly what's-running-at-the-repertory?-surf. It looked funny, and as we're... 1/8 (?) jews, my sister and I decided to go check it out. It was all right, better than many critics thought it was. Ah, critics, they're good at a lot of things, but they should really update their attitude towards comedy.The film throws a funny perspective on Judaism, Islam and multi-culti London. I was also funnily surprised to realize that the family was Pakistani, meaning I could understand them talking Urdu.
Rating: 7.0
Joadeiye Nader az Simin
(2011) Asghar Farhadi - Iran
My expectations were high for this "Masterpiece from the Berlinale", to quote renowned German magazine
Der Spiegel
. After both director Farhadi and the leading actors had taken the German film festival by storm, the film was eventually distributed to almost every indie cinema in the country - and yes, some day it reached the far north of my home town. One of the minuses of the film is, that it's extremely dialogue-loaded, which might begin to annoy one after a while. However, it deals with many important and interesting issues of the Middle East, especially the rights and lives of women. The actors are none less but brilliant, and the direction is very realistic and relatable. 
Rating: 8.4
What a Man
(2011) Matthias Schweighöfer - Germany
Another film I had high expectations for, though more in the comedic sense - I expected a solid,
funny
 Friday-afternoon comedy. Well, I was disappointed. One of my friends and I are huge Matthias Schweighöfer fans, and even though he delivers a decent performance in this one, he should stick to his place in front of the camera. There are things about this that worked, and others that could have worked, but were destroyed by the things that didn't work. At least the music was good.
Rating: 5.8Seen for the first time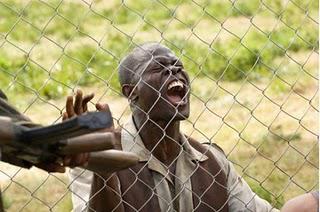 Blood Diamond
Blod i Mobilen/ "Blood in the Mobile"
(2010) Frank P. Poulsen
 -
Denmark/UK
A documentary we saw in geography class, of the kind that I admire. These journalists opened my eyes, shocked me, made me feel bad and stupid. As I said, the kind of documentary I like. If you want to know more, please visit this website: 
http://bloodinthemobile.org/
, and watch the film (I don't know if it's available on the site). 
Rating: 8.4
Blood Diamond
(2006) Edward Zwick - USA
This film bears the record of laying in my room for the longest time without being watched. I think it had been three month from when I bought it until I finally watched it. What made me do that was, quite obviously, the previous film "Blood in the Mobile". And yes, the two are quite similar, though this one is more dramatic of course, and also more personal. It's not more optimistic though, and after I watched it, I swore to God that I'd never buy myself diamond jewellery. Furthermore, Leonardo di Caprio surprised me with his great performance, and all supporting actors were very good, too.
Rating: 8.8
Borat: Cultural Learnings of America for Make Benefit Glorious Nation of Kazakhstan 
(2006) Larry Charles - USA
On one hand, I understand that many people felt accused by, or were angry at the makers of this film. On the other hand: haven't people got any humour left? Of course, if you look at this film from the outside, it will appear racist, abusive, sexist etc. etc., but you need to search for the deeper meaning - no, the satiric, humourous meaning of the film, to really understand it. It doesn't abuse Kazakhstan, or Russia, or any of those - it shows us how
we
 think that part of the world and its population is, it makes
us
 look like fools. And that's funny. Extremely funny, if you ask me. Hey, the people in the film aren't even Kazakhis (or whatever you call them), they're Roma - those gypsies who are haunted and abused in a large part of East Europe and Russia. There are many layers to the film "Borat", and I believe it's one of the best comedies of the last century. Dot.
Rating: 8.2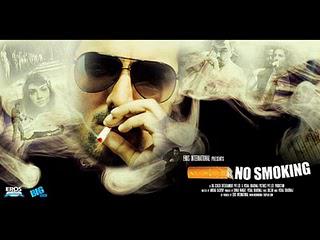 Manorama Six Feet Under
(2007) Navdeep Singh - India
Had potential (especially because of my darling Abhay Deol), but it was too long, too complicated and drifted away after about 1 1/2 hours. Raima Sen was nice, and Gul Panag was okay. I liked the setting and the main story, but as I said, there were too many side plots and weird turning points.
Rating: 6.2
Mother India
(1957) Mehboob Khan - India
Read full review
.
Rating: 7.0
No Smoking
(2007) Anurag Kashyap - India
It was a close match between Shaitan and this one for Film of the Month, but in the end the later worked slightly better in the whole, and, well, I had to decide so it was more of a 50/50. Many critics, and about 99% of the viewers, trashed No Smoking, surely because they didn't understand it, nor did they want to understand it. The 1% left over consists of (in my opinion) the best critics and true film buffs or intellectuals. They, no: we think that No Smoking is... ah, there's the wikipedia quote: "amongst one of the most abstract stories, which can have multiple interpretations". Okay, so quoting is a weak technique,  somehow, I don't like doing it too often, but here I think the wikipedianist (?) got it just right. No Smoking is legendary, let's face it, it's magnificent, amazing, striking, enlightening, hyper-intellectual, ingenious, crazy... ahm, legendary, did I mention that one? Ah, just watch it (along with Shaitan).
Rating: 9.4
Page 3
(2005) Madhur Bhandarkar - India
Page 3 has an important message, and many of its themes are still relevant today, but it looses itself in the long duration of the film. All right 2, 5 hours is just about normal for a film of that time, but a film like Page 3 needs to be more spot-on and much more fast-paced to really underline its statement. There were times when, no matter how hard I tried to stay focused, the film failed to capture me, however, Konkona Sen Sharma is often the saving grace. I hope she'll start a new project soon, because she's one of my favorite actresses in the world, honestly. Madhur Bhandarkar... well, I'm not as convinced as I had wanted to be - after he disappointed me with his first rom-com Dil Toh Bachha Hai Ji, I thought I'd give on of his more serious films a go. But I'm still confident I'll love Fashion.In the end, Page 3 did work and left a good impression on me, but there was a lot of unused potential in it.
Rating: 7.3

Shaitan
(2011) Bejoy Nambair - India
Read full review
."Summarizing the adjectives, this film is
fresh, daring, striking, ingenious, edgy and disgusting - devilish
. Until now Shatian is my second favorite Indian film of 2011."PS: #1 is Dhobi Ghat (Mumbai Diaries).
Rating: 9.4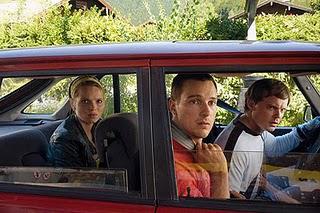 Vincent Wants to Sea

Sikandar
(2009) Piyush Jha - India
This film was really eye-opening and fascinating. NOT.Sorry, I was just thinking of Borat... a good film, if I already mentioned that - in contrary to this one. Ayesha Kapoor, the child actor sensation of SLB's 2006 "Black", was wasted in the depth-laking character of a Muslim girl in Kashmir, the male child actor needs to go to acting school until he makes his next film and the director... well, forget about him. The theme is important, and this could've been a good film, if it... weren't so main-stream and boring.
Rating: 5.0
Valgaften/ "Election Night" (short) (1999) Anders Thomas Jensen - Denmark
Maybe you've heard, maybe you haven't - there's been election in Denmark, and the left side finally won! It's the first time that Denmark will have a left-orientated government. Okay, this is the internet, and one should be careful what one writes - I'm not a communist -, but I'm not ashamed to tell you that I'm left-orientated. Not at all. 
Whatever, I went to see the election with some friends, and we saw this film, too. As most shorts, it's surprisingly simple, yet magnificent. Oh, and it won an Oscar, if that convinces you to watch it.
Rating: 8.9
Vincent will Meer/ "Vincent Wants to Sea"
(2010) Ralf Huettner - Germany
Did I say that "Ein Tick anders" was more realistic and easier to relate to than this one? Indeed, it was. It wasn't the better film, though - sometimes, the tougher road is the road that leads to the thing you want, to the right answer, or maybe rather: the right question. You might already know one of the supporting actresses, Karoline Herfurth - looks a little like Jessica Chastain, and starred in films like
The Perfume
 and
The Reader
. She's my favorite German actress at the time, very natural and emotional. Florian David Fitz, who also wrote the screenplay, is just as wonderful, taking a break from his macho-role in a well-known German series to amaze us as the "young man suffering from Tourette's syndrome" (I stole that sentence from IMDB, in case you wondered). 
Rating: 7.5

Re-watched with the purpose of intense examination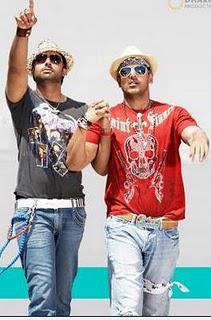 Dostana

Dostana
(2008) Tarun Mansukhani - India
I had to convince my sister and my best friend that this was extremely hilarious. And I wanted to make them watch a Bollywood film they hadn't seen before (they usually stick to the oldies of Chalte Chalte, K3G and the like). It worked. We hated Bobby Deol (hehe, finally someone who understands me), we danced to the songs and we think Abhishek should get a divorce and marry John. 
Rating: 7.0


Hope you had some interesting viewing experiences last month, too, and let's look forward to another month full of joy and films. Midnight in Paris is coming to our repertory, wooooo! And next week's the start of our autumn holidays.