Before we start, here's a short notification: please vote for my submission for the 7th LAMB Photoshop event here. Or vote for any of the other ones, if you think they're better - just vote.


Seen on Silver Screen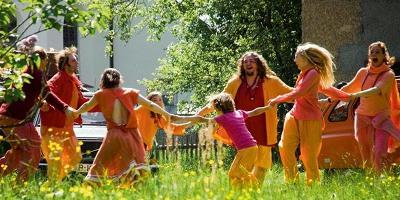 Sommer in Orange (2011) Marcus H. Rosenmüller - GermanyI wrote about this one in another post already. To quote myself: "I saw a movie with great potential yesterday - SOMMER IN ORANGE - that had an awful end. It was quite realistic with a funny note all the time (it's about some German Bhagwan-followers who lived in the 1980's and the problems their children have to deal with, and how the outside world rejects them), until some time the producers must have thought "yeah, let's make an unrealistic happy-end now". Or something similar. Anyway, I was vastly disappointed.Rating: 5.9
Midnight in Paris

(2011) Woody Allen - USA

Just as good is I had expected, this latest Woody-product is a light, romantic comedy with a great love for details and intellectual amusement (even though it makes fun of snobbism). It is true that Owen Wilson has never been better, and maybe never will be better - it's a surprise he even got this chance to show off his decent skills in a film of this caliber. Even if I have been to Paris, and remember some of it's very dark sides, this film made me re-discover the beauty and magic about it. A wonderful end to the (more or less) warm season - they call it summer, I believe - so Bonjour cold, German winter.Rating: 8.1
Seen for the first time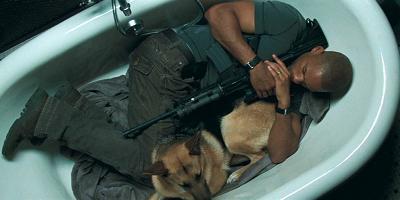 I Am Legend (2007) Francis Lawrence - USABetter and profounder than I had thought, though pretty mainstream, plus I didn't like the end. It was like an old chewing gum - absolutely nothing new about it. The film should've stopped when he tells them to enter that thing (that's not a spoiler, right?). Best scene: Will Smith talking along with SHREK. You know what I mean if you've seen it.Rating: 7.0
Kissenschlacht (2011) (TV-film) Peter Stauch - GermanyNot a very good film, in fact a very bad film that you'll forget just after watching it. Annika Blendl seems promising though.Rating: 1.7
Wo Hu Cang Long (2000) Ang Lee - China/ Taiwan"A beautiful, majestic epic of a film that will stay in your memory for all time." - Read moreRating: 9.2
Volver (2006) Pedro Almodóvar - Spain"One of those fascinating films that blend a serious message into filmic entertainment without exaggerating neither of the two. Light but satiable." - Read moreRating: 9.1
Mirch (2010) Vinay Shukla - India (Hindi) "MIRCH is not as good as it could have been." - Read moreRating: 6.5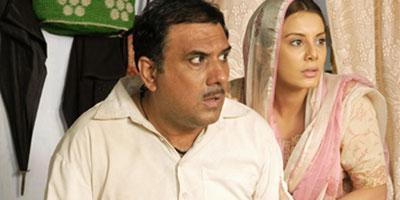 Well Done Abba! (2010) Shyam Benegal - India (Hindi)A well-done film with an important message, and without too much heavy drama and... heaviness. Boman Irani is splendid as always and also Minissha Lamba shines, even though she is clearly too old for her role. Ila Arun proves that CHAK DE! wasn't just a lucky role for her. Rating: 7.3
Horsemen (2009) Jonas Åkerlund - USAGood idea, bad script and direction. The film doesn't even suck, it's too boring for that. I was confused to see Ziyi Zhang in it, after being introduced to her by seeing WO HU CANG LONG  a few days earlier.Rating: 4.5
Monsters (2010) Gareth Edwards - UKI was surprised to find that this film has a huge fan base amongst cinegoers, plus that it was made in Britain. I mean, it plays in Mexico/ USA. And even though the idea and the actors (except for Scoot McNairy) are better than those from HORSEMEN, the film is just as boring. The end made me very angry, because I felt: "I sat through this for about 2 hours, just to see that!?" I think I'll watch DISTRICT 9 very soon, instead, to see if it's any better.Rating: 5.0
Rocket Singh: Salesman of the Year (2009) Shimit Amin - India (Hindi)Interesting and boring at the same time. Interesting to see something new, I mean an Indian film about an office and the people working there, boring to see a film about an office and the people working there. Ranbir Kapoor has played better roles, too, even though he proves his flexibility in this one. I didn't see Ranbir Kapoor with a Sikh-turban, I saw the Sikh Harpreet Singh. Who has a lot of turbans in every color of the rainbow.Rating: 6.9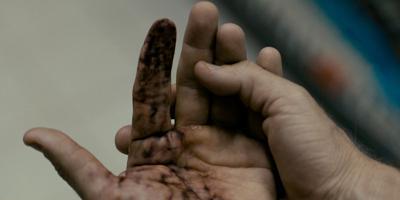 Splinter (2008) Toby Wilkins - USAMore entertaining than HORSEMEN and MONSTERS, that is, though I don't think it's entertaining in the way it wants to be. There are some really funny scenes in it. I also liked the characters, and the actors were ok. Rating: 6.0
Dinner for Schmucks  (2010) Jay Roach - USANow that I've seen both the Indian re-make and this one, I'm quite curious for the French original. While the Indian one was far better than this recent American one, it didn't make me laugh just as much, which is weird... but also logical. I mean, there are scenes in this one that are so... ridiculous, that you can't do anything else but laugh your brains out.Rating: 3.3
Patiala House (2011) Nikhil Advani - India (Hindi)Nikhil Advani, I don't know what to do about you. How can it be that I'm so deeply in love with your first film KAL HO NAA HO, and that you just get worse and worse. I turned this one off after 20 minutes or so, and by that point I knew what is was all about: family, tradition, sports and love. The main person is Gattu, played by Akshay Kumar. He does anything his father wants - at the age of... what, 40?, and is soooo sad about that, but he can't do anything, and then this woman walks into his life, who is loud and unorganized and wild (Anushka's worst performance yet  - how could you?) and he falls in love and realizes he should live his life. Then there will be some secret cricket playing bla, bla, the father will find out, get angry, but the son will stand up and he will win over the father, and at the end everyone is happy. CREEPIEST FILM OF 2011 I'VE SEEN UNTIL NOW. Definitely the new WTF, I mean, WE ARE FAMILY. Much worse, even.Rating: 1.0
The Replacement Killers (1998) Antoine Fuqua - USAA good film to fill out an evening with family and friends, but nothing of much cinematic value. Chow Yun-Fat (or Yun-Fat Chow, whatever you like most) is always a guarantee for entertainment - much like Jackie Chan and Bruce Lee, and I must say he looks at least 10 years younger than in WO HU CANG LONG. It was interesting to see him in these two very different films, he handles both sides of the industry well.Rating: 5. 4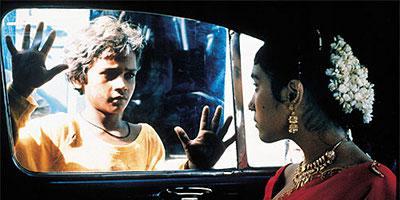 Salaam Bombay! (1988) Mira NairDedicated to the children of the streets of Bombay, this film didn't just succeed in helping to give these children a voice, but was also highly acclaimed by critics and film-lovers all over the world. It won various awards at film festivals, the only "true" (seemingly not influenced by box-office results and famous names) Indian award, the Nation Film Award, and it was the second Indian film to be nominated for an Academy Award. Knowing all this, and having seen three other Mira Nair films before, that had left a great impression on me, my expectations for SALAAM BOMBAY! were sky-high. And even though this was the first film that truly made me want to put a bullet in my head, it was also one of the most candid and best films I've seen. I was surprised to read that none of the child actors (many of them actual street kids) had pursued an acting career, as they were one of the best parts of the film, especially main actor Shafiq Syed. He repairs auto-rickshaws today.If you still think Indian cinema is all about either kitschy romance or trashy action-masala (or both) - and I hope you don't, if you're a frequent visitor - watch this film. Or watch it whatsoever.Rating: 9.7
Just Friends (2005) Roger Kumble - USADiverting fun, but ridiculous and horrible at the same time. Funniest scene is at the end: watch here.Rating: 2.6
The Shining (1980) Stanley Kubrick - USARead my piece on horror films (including my top 5 horror films), where I mention this film a few times. Hint: it's my #2.Rating: 8.5
Dodgeball: A True Underdog Story (2004) Rawson Marshall Thurber - USAHad it's [fun] moments, but in a whole pretty forgettable and bland. And pervert. I'm thinking about a certain scene featuring Ben Stiller and a pizza.Rating: 3.5
Phool Aur Kaante (1991) Sandesh Kohli - India (Hindi)Baaaaaaad! Almost so bad it's good, but only certain scenes. Off course, Amrish Puri is in it, as in every really bad 90s film. It was also the debut for Ajay Devgn, a very cool debut I must say. Filmi Girl has documented it with a lot of screencaps - check it out.About that Madhoo... please don't make any more movies.Rating: 1.5
Roja (1992) Mani Ratnam - India (Tamil)Second Tamil film I've ever seen and the third South Indian film I've seen this year... can we call this a passed New Year's Resolution? ... Okay, I watched the Hindi-dubbed version, and I can't recommend doing that to anyone, as it's pretty confusing. I mean, why can't Roja read a Hindi newspaper when she speaks Hindi? And why can't the people in Kashmir understand her, if she speaks Hindi just like them? Took me a while to figure it out. ROJA is no masterpiece, and my favorite Indian director has made much better films, but its strong female lead, the beautiful songs and settings, plus some interesting side plots make it a pleasure to watch. What I didn't like was the strong patriotic feeling about it, that always scares me off as a German. We don't like patriotism, it smells of war and things you'll be ashamed of later on. There's different ways to translate the story, each with a different rate of patriotism, and I think the last thing Ratnam is, is overly patriotic and un-critical, but still... this could've been better.Rating: 7.7


Re-watched with the purpose of intense examination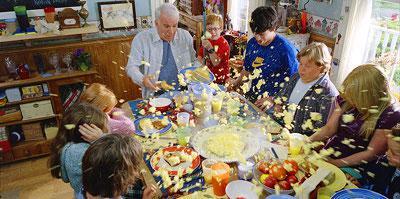 Cheaper by the Dozen

 (2003) Shawn Levy - USA
... Not really. I was forced to re-watch this, because it was the only thing my guest family felt like watching, and their taste isn't as snobby as mine. So we chose this one. It could've been worse, like was the case with HORSEMEN and JUST FRIENDS. This I knew. It's fun, in a universal, American way.
Rating: 5.8
Amélie (2001) Jean-Pierre Jeunet - France
Not as good as watching it for the first time, but this time was in class, and I was really tired too. I still adore Audrey Tatou and the theme music.
Rating: 7.5
Twilight (2008) Catherine Hardwicke - USA
I never knew the first part was directed by a woman. Maybe it's the best part, because it wasn't spoiled by all that hype around the actors and the whole series. It was definitely the one with the lowest budget. Not really a good film, but I'm still a fan of the books, and watching a film goes faster than reading a book. Plus you can do it with your friends - which I did.
Rating: 6.8
Amount of films watched this month: 24

By the way, I'm going to Mexico from 9. - 31. december, so my "Favorites of the Year" lists and stuff will have to wait because I won't be watching many films then. But more about that later.
Right now I'm happy because I found out that MELANCHOLIA is coming to our repertory at the end of November. (And BREAKING DAWN Part 1 is releasing soon!!! <3... Just kidding).