At the start of 2011, I started a "mission", trying to watch about one film a day to build up a better knowledge of films and get some "good viewing habits".I didn't always watch a film a day. But sometimes I watched two, or three, or four. It depended.After 7 months now, I found that this mission had somehow come to an end, and that the monthly posts needed to have a new name and maybe a new meaning as well.The new name, "Happy New Month" posts, is a lot more fitting, as it both celebrates the past month as well as the start of a new, hopefully happy, joy- and film-full month.
Cheers to the first edition of Happy New Month!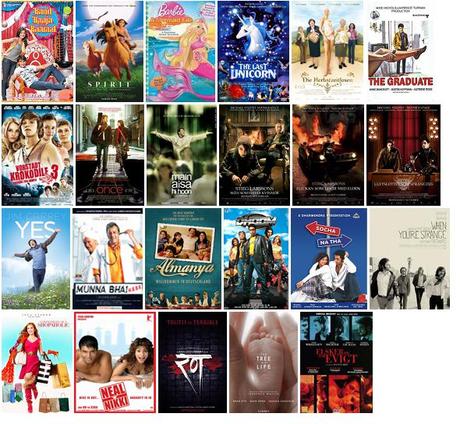 23 films
Band Baaja Baaraat
(2010) Maneesh Sharma
India, Hindi -
first and second view
I already
reviewed
 this film, but for those too lazy to read (I can feel like that sometimes, too), here's the nutshell-sentence: "BBB is already a favorite, and I want to recommend it to every living soul - though I do know that not everyone is going to love it as much as I do". 5/5 stars.
Spirit: Stallion of the Cimarron
(2002) Kelly Asbury & Lorna Cook
USA, EnglishThis was one of our favorite films when we were kids ("we" is my sister, her best friend, my best friend, and... me). It was wonderful to re-watch it with my sister and her best friend - I still love it, even though the faults are much more visible to me now. I hadn't seen it since my childhood, so I recalled how it had been to see it when I was younger, which made very clear to me, that children experience a film so differently than (young) adults! 
Barbie in a Mermaid Tale
(2010) Adam L. Wood
USA, English -
First view
I'm quite embarrassed to have this film on my list, but the two young ladies were begging to watch it. I fell asleep during that - luckily, I might say. But I must admit that the nutcracker, swan lake and rapunzel films are quite okay (yes, we watched all those barbie films when we were kids, too).
The Last Unicorn
(1982) Jules Bass & Arthur Rankin Jr.
USA, English -
Second view
Another animated film, but this one is very different from the first ones. It's one of the best animated films I know, so poetic, beautiful and recondite. Also, the theme song by America is wonderful.Re-listen
here
. 
Die Herbstzeitlosen ["Late Bloomers"]
(2006) Bettina Oberli
Switzerland, (Swiss) German -
Second view
Great film about some old women opening a lingerie boutique in a small Swiss village. I love films like this - it may be a frequent subject in films, a little "old" already, but it's very sympathetically re-explored here. As every (North-)German, I have some prejudice against the Swiss (and Austrians, and also South-Germans), also because of their weird dialects, but it didn't take long until I forgot that.
The Graduate
(1967) Mike Nichols
USA, English -
Second view
In May, I
wrote
 about my experience of watching The Graduate for the first time. I wrote that " I could write novels about how great I find it", and turns out I didn't exaggerate. My mother wasn't just as crazy about it after I forced her to watch it with me - she didn't really understand it. But still liked it. Me? I loved it even more the second time. 
Vorstadtkrokodile 3 [= suburban crocodiles]
(2011) Wolfgang Groos
Germany, German -
first view
In Germany, we have a lot of films about adventurous kids in the age from 9 till 15, and of course, as kids we loved them. Now, they're a little boring to me, but my sister still admires them. 
Once
(2006) John Carney
Ireland, English -
first view
Yes, Once is as good as you think if you've heard/ read anything about it. It's a film about the love to music, a very quiet and real-seeming film with a wonderful soundtrack and two wonderful leading actors. It's not the film you'd watch very often, neither the music you'd listen to very often, but nevertheless an experience you can't miss. 
Main Aisa Hi Hoon
(2005) Harry Barweja
India, Hindi -
first view
Utterly boring, no idea why I bought it, nor why I sat through all of it. Sushmita Sen is underrated, though.
Män som hatar kvinnor
(2009) Niels Arden Oplev
Sweden, Swedish -
first view
Oh, how long had I waited to finally see these films! My mother had forbidden me to watch them, even though I had read the books. They are so cool! The first one is my favorite, but all of the three are really good films. However, there were some things left out from the books, that I feel shouldn't have; for instance, Mikael and Erika are way less sympathetic in the book, as it is described how they have had an affair since high school, even when Mikael was married, and that it destroyed Mikael's marriage. It's not even clear that they are really having this affair, nor is it clear that Mikael has a daughter, whom he doesn't see very often, and some other things that make him seem less nice. And by the way: how cool is Swedish? Just love that language, it's much more melodic than Danish.
+
Flickan som lekte med elden + Luftslottet som sprängdes
Yes Man
(2008) Peyton Reed
USA, English What can I say... I still think that Jim Carrey is one of Hollywood's funniest men. Maybe one of the funniest actors ever. My favorite scene is when they sing with the suicide-man.
Munnabhai M.B.B.S.
(2003) Rajkumar Hirani
India, HindiAfter watching this, I tweeted:
"Munnabhai M.B.B.S. is an unrealistic fairytale-comedy. And yes, I like it".
 I liked it, but I didn't love it. The more I thought about it, the less I liked it, though. It's so forgettable, in a way.
Almanya
(2010)
... I already wrote about this one, before... 
Dhoom
(2004) Sanjay Gadhvi
India, HindiThe more often I watch Dhoom, the trashier it gets. But it never really gets bad, I always enjoy it. 
Socha Na Tha
(2005) Imtiaz Ali
India, HindiA sweet film, the debut of both Imtiaz Ali and Abhay Deol. However, I hated Abhay's haircut. He's much hotter now that he's older. And of course, the story was quite predictable - nevertheless okay and with a fresh touch.
When You're Strange
(2009) Tom DiCillo
USA, English -
first view
DVD nights with friends who like to watch films un-dubbed are so great... We had been wanting to watch this film for a very long time, as we love The Doors, and all of us were quite shocked by it. Maybe we were naive, but we honestly didn't know that it was so bad with the drugs! We thought it was just... well, a few joints and some LSD, like the Beatles, but this was horrible. Otherwise, this is a really, really well-made documentary with the right balance of information and "entertainment". It even made me like the music of The Doors more... and it made me addictive to the song "People are Strange". Must-see for fans... and others, too.
Confessions of a Shopaholic
(2009)
... I think I've written about this tons of times already. Well, we needed something light and funny after the former film.
Neal n Nikki
(2005) Arjun Sablok
India, Hinglish -
first view
I stopped at 00:25. This film was so much worse than I had expected. Tanish really can't act.
Rann
(2010) Ram Gopal Varma
India, Hindi -
first view
Aside from BBB the only good Bollywood I saw this month... might be the reason why I'm a bit uninterested in watching Bollywood at the moment. But Rann was very, very good. It opened my eyes, it was super interesting and exciting, and Amitabh really is the King. 
The Tree of Life
(2011) Terrence Malick
USA, English -
first view (cinema)
Inspired me to write my longest review until now:
read here
. 
Elsker dig for evigt ["Open Hearts", literally: Love You Forever]
(2002) Susanne Bier
Denmark, Danish -
first view
In the special features, I learned what a "dogma film" is. That explains why the films seemed so realistic. It also stars my favorite Danish actor, Mads Mikkelsen. This man has got talent. ... Okay, and he's kind of hot (not anymore, though - too old). All the actors did very well, and the story was... well, shocking, but also so d*** realistic, I mean, I knew all of those situations, it all seemed so familiar (except for I-think-you-know-what-I-mean, of course). 
------------------------