0 Flares
0 Flares
×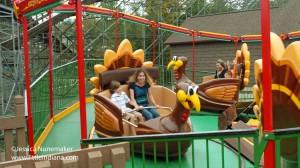 Happy Halloween Weekends at Holiday World in Santa Claus, Indiana
For a town that's so big on Christmas, Holiday World in Santa Claus, Indiana certainly does Halloween up right!
Think more "friendly" than "frightening" and you've got a better understanding of how this Santa Claus, Indiana attraction does it up each Fall.
Happy Halloween Weekends at Holiday World in Santa Claus, Indiana
You won't find scary Halloween costumes or tear-inducing decor. Instead, this Spencer County attraction keeps it all family friendly with a big focus on fun!
Familiar icons at the park are draped in sheets for a "ghostly" look. Pumpkins are here, there, and everywhere. Smiling scarecrows line many a walkway. The usual places to eat have an occasional name change to reflect a spookier side like Udderly Boo Ice Cream and Fright Cake Factory. Clever, eh?
Open on the weekends during the month of October, the Holiday World side of the park is open later on Saturdays. The bright lights of the rides really light up the park! For Splashing Safari? Well, you are going to have to wait until next season!
Halloween Fun at Holiday World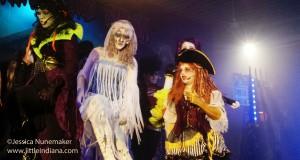 Happy Halloween Weekends at Holiday World in Santa Claus, Indiana
It might be the same Indiana town, but this is not the same Holiday World! More than just fun decor, Happy Halloween Weekends at Holiday World mean great new seasonal attractions!
There's Mummy's Treasure Maze, two Corn Mazes, a 3D Holidog Halloween Adventure, Hayrides, and Graveyard Smash–a more Halloween themed show featuring songs you know and love! You can get a glimpse of that one in the video below.
Our oldest loved walking through Mummy's Treasure Maze! He liked trying to figure out the clues to solve the puzzle. I have to admit that we did, too!
Go There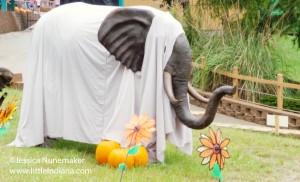 Happy Halloween Weekends at Holiday World in Santa Claus, Indiana
Kid #1 was just big enough (and brave enough) to tackle two of the three Holiday World rollercoasters–and that included The Voyager! So brave! Kid #2 had a lot of fun rides to enjoy as well.
With barely any waiting in lines but the same amenities you are used to like free water/soda, sunscreen, and free parking but new Autumn-themed fun, Happy Halloween Weekends at Holiday World in Santa Claus, Indiana certainly knows how to celebrate the seasons, family-style!
Watch a snippet of a Halloween-themed Holiday World Show on YouTube or below.
Special Thanks to Melissa Brockman and Spencer County Tourism for Hosting our Stay! Opinions Remain Mine and Mine Alone Like Always. 
Small Towns: Destinations, not Drive-Thrus! I'm Jessica Nunemaker and THIS is little Indiana!
Find pictures in Indiana on my Flickr photostream or on the new little Indiana Tumblr blog.
Just don't forget to tell 'em that  little Indiana sent you!
Holiday World
452 E Christmas Blvd
Santa Claus, Indiana 47579
812.937.4401

View Larger Map
Don't miss a moment. Subscribe to little Indiana and receive instant updates to stay on top of everything "little."
little Indiana: Where to Stay, Play, and Eat in Small Towns in Indiana. Discovering Indiana's best small towns! Now get little Indiana on your Kindle.
Targeted. Relevant. Affordable! little Indiana advertising.