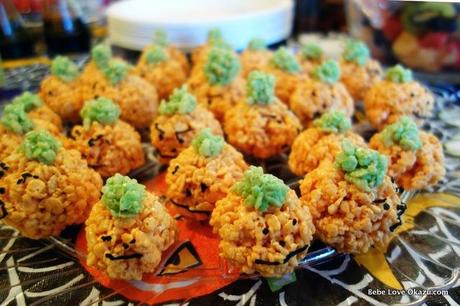 Happy Halloween!!!
I love Halloween. It's one of my most favorite holidays. Not only is the giving of candy and treats fun, so is making fun party food that both kids and adults can enjoy.
Thanks to my husband for suggesting little orange pumpkin rice krispie treats for a kids' Halloween Party potluck this past weekend, I took the orange ball idea and went a little overboard. As my friend N said, "I'm getting a little ambitious." :)
Ambitious, nah! Fully embracing the Halloween spirit? Definitely!
Bebe E is really enjoying this Halloween season and she had a blast making little round "pumpkins" with me. I simply used food coloring and I made the little faces with black store-bought icing from a tube. However, because these pumpkins were little (for little hands), I had to make the faces really small too. I placed some icing in a sandwich size ziplock bag, and I cut the corner of the bag making a very small opening to ensure that only a tiny amount of icing would come out.
Fun stuff!
I have more goodies but unfortunately I don't think I'll have time to share them prior to Halloween. :/ Sorry… Last week I shared a simply and quick snack mix that's Bebe E really enjoyed at our neighborhood Halloween party. (Click here for kids' snack mix recipe.)
Here's a photo of my little Minnie Mouse at last week's neighborhood Halloween party. That little smudge of black stuff on her nose was our attempt at making a Minnie "nose" for her with some smokey eye shadow that I had. Can you believe I didn't have any black eyeliner?!? My life has definitely changed over the past several years, for the better of course. :) I have a feeling on November 1st she will ask me when we can do Halloween again, just like she's been asking when we can do Easter again. Haha. (See post on last year's Easter extravaganza here.)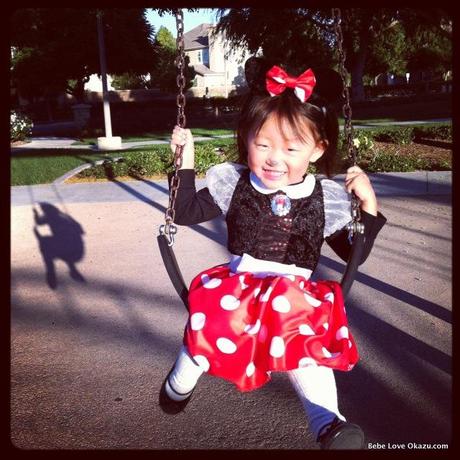 I hope everyone enjoys a safe and fun Halloween today. And if you have time, give these little pumpkin rice krispie treats a try. As you can see below I tried to make a few of the pumpkin faces mean-looking, and others happy. They were yummy to eat and super fun to make with Bebe E. I'll definitely be making these again!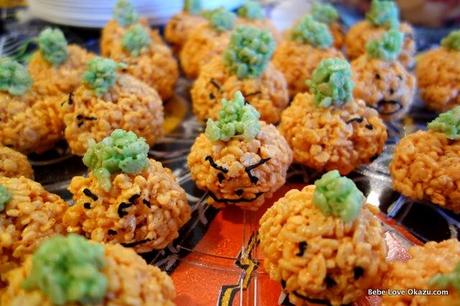 Thanks for taking these photos, Nate! :)
In case you missed yesterday's Green Smoothie post, be sure to check it out because I have a great giveaway for a Zojirushi Stainless Steel Hot/Cold Mug that I personally use almost on a daily basis. I couldn't wait to gift one of these and I can't wait for someone to win it! Please see yesterday's post for details on how to enter. *Giveaway is not sponsored by Zojirushi.
Have a Happy Halloween!
Print
Happy Halloween! Pumpkin Rice Krispie Treats Author: 
Judy | Bebe Love Okazu
Recipe type: 
Dessert
  Ingredients
1 bag (10 oz) of mini marshmallows
6 cups rice krispie cereal
3 tablespoons butter
Cooking spray
3 drops red food coloring
5 drops yellow food coloring
3 drops green food coloring
Black icing (store bought, in tube)
Instructions
In a large pot, melt butter. Add marshmallows and stir until melted.
Separate about 1 cup of the marshmallow mixture into a smaller pot. Add green food coloring to this smaller pot. This will be the pumpkin "stem". Turn off the heat and set this aside.
To the large pot, add the yellow and red food coloring to make orange. Add the remaining rice krispie cereal to this mixture to make the "pumpkin". Stir until well-coated.
Working quickly, make sure that you cover your hands with butter or spray with cooking oil (to prevent sticking) take approximately ½ cup of the the orange krispie mixture and make little balls. Place on tray that has been lightly sprayed with cooking oil to prevent sticking.
After all the pumpkins are made, return to the stove and turn on heat to warm the small pot of green melted marshmallows if necessary. Add 1½ cups of the rice krispie cereal to this small pot. Stir until cereal is well-coated.
Again, coat hands with butter or cooking spray. Make small "stems" and place them on top of each pumpkin ball. Gently press down to ensure they stick to the pumpkin.
Place about 1 tablespoon of the black icing into a small sandwich size ziplock bag. Cut a very tiny hole in the corner of the bag so that you can squeeze out a small amount of icing to decorate the pumpkin faces.
Store covered up to 2 – 3 days.
3.1.02