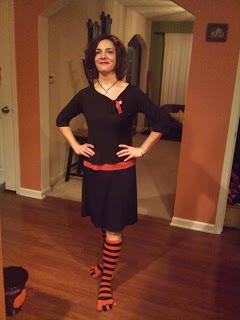 My Standard H'Ween Outfit
Happy Halloween everyone. My kids are off this week for half-term holidays. Since school here in England goes through the end of July and the only long break is in August, the kids have shorter breaks more frequently than in the US.
Because there isn't any school, my kids don't realize that today is Halloween. I haven't advertised the fact due to circumstance. The car is stuck at my husband's office as he couldn't get it started last night after work. So, I can't take them to the place I had planned to today.
We live in a small village and it is very dark now by 5:30pm. I don't know whether this area does much in the way of trick-or-treating and I don't really want to be wandering around in the dark with three kids in unfamiliar territory.
And most importantly, due to the car issues we have faced of late, I haven't even taken Nature Girl or The Boy to choose their costumes. I picked one up for my younger daughter (the day before the car went wonky) for her Halloween Disco last week at school. And of course, due to a few unexpected bills (who knew you needed a license to watch television or that a phone call to my MIL would cost a pound a minute!) and a budgeting error on my part, cash is very tight.
I'm a bit perplexed as to what to do. On the bright side, yesterday the girls took it upon themselves  to color and paint numerous Halloween themed drawings and coloring pages and hang them all over the house for decoration.
I make it a policy to be as age-appropriately honest with my children as possible. I suppose it is time to fess up and give them their options. If my payments come through this week from a few sponsored posts and other writing and editing, then I'll be able to take them somewhere fun this weekend to celebrate. In the meantime, perhaps we'll have to walk down to the store for cookie baking supplies (butter and orange icing!) and then have our own party. Dressed-up in whatever we have, bobbing for apples, making paper pumpkins and dancing to some spooky music!
I should be thankful, and I am, that my circumstances do not involve our health or safety, like so many in the midst of the hurricane. I wish those of you on the East coast the very best!
What are your plans?