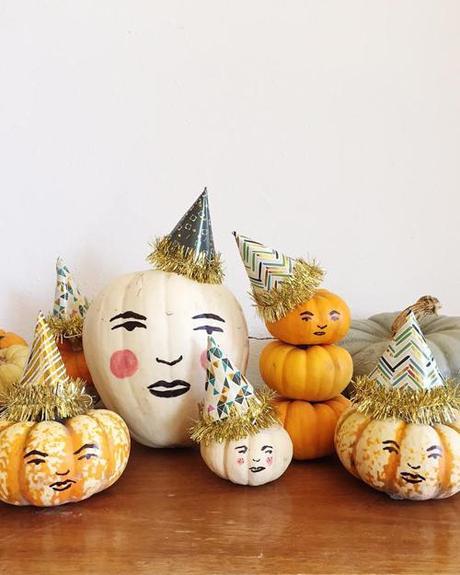 Well, anyone else exhausted from Halloween and the day has only begun? With all the costumes that went on here on the blog over the past month or so, Paul and I still don't have some for tonight. That's the life of a crafter I suppose. I admit that I do like the challenge of putting something together last minute. Let's see if I'm up for it after all. Right now I just feel like staying cozy in my Mary Engelbreit sweatshirt with my green smoothie.
This week on Lars: 
Tongue Twister Halloween costumes (I love our She sells seashells one!)
Animal headwraps part 1
Animal headwraps part 2
Camille Styles' book is out now! 
Today is the last day to enter the Winter Water Factory giveaway!
Ghost tablecloth
Loving these Halloween ideas:
These costumes with balloons
Glazed donut pumpkin seeds
Spooky Pie Pops
WOW! Make your own harvest table for under $80!
These adorable pumpkin buckets
Lars elsewhere this week: 
Every house needs some of these
5 clever ways to hang theses
I made some cherry pumpkins for Design*Sponge 
Must sees/reads:
I know I'm WAY behind (274 million views late), but this video is mesmerizing and I can't get it out of my head. So gorgeous. 
Living in Hocus Pocus
How to create a great storyboard
#Crafttherainbow continues on Instagram! 
Don't forget! The 3rd Annual Halloween Costume contest goes until Tuesday! See here for deets
The photo above is from my Instagram. I made a pumpkin family like last year's DIY collaboration (see here). Thank you Oh Joy for the sweet mini party hats. We're clearly loving her new Target line. And her winter collection is out now!