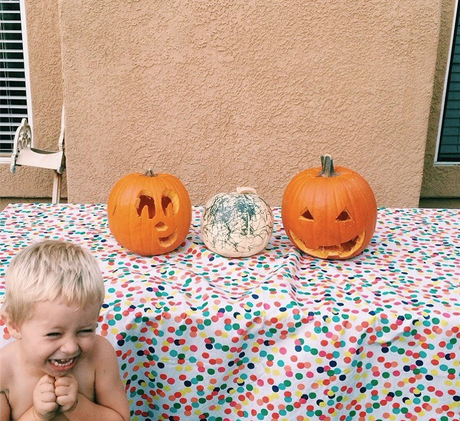 Just want to wish you a Happy Halloween! I love when it falls on a Friday. It's the perfect formula for a wonderful night of trick-or-treating. I am really looking forward to it with the boys this year since Luke is old enough for it to be meaningful. And because I didn't just have a baby cut out of me! Remember that last year?  I came home from the hospital on Halloween! My, my, how things have changed ;) Also, Luke was the cutest "Melmo" around, even if his costume didn't fit.
Have a fun, safe weekend and be sure to fulfill your parental duties of sneaking all of the "good" candy. (You know, the Kit Kats, Reese's, full-sized candy bars...)
P.S. If you can do a better jack o' lantern impression than Luke, I will give you BOTH of our Halloween candy stashes.