Happy Birthday Oreo! The cookie that is known to be milk's best friend turns 100 years old today. The Oreo was first sold in Hoboken, NJ in 1912 and has become one of America's, if not the world's, favorite treat. The Oreo has be known to be eaten a handful of ways by dunking it a cold glass of milk, tearing one side off and scraping the cream off with your teeth, eating it whole, and other ways. I'm a dunker myself.
Other than the original cream Oreo, the brand has other flavors such as chocolate, chocolate cream, golden, and peanut butter to just name a few. In honor of its 100th birthday, the Birthday Cake Oreo's have been released and have rainbow sprinkles on the delicious cream. The Birthday Cake Oreo has a vanilla flavoring and taste just like eating a piece of cake. Just add milk!
Back when I was in college, I did a couple of ads for a class on Oreo's. The tagline was "Who says you can't play with your food?" Here are the two ads I produced. Happy Birthday Oreo!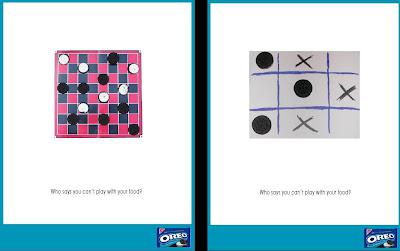 Who says you can't play with your food?