Saturday was Elle's 8th birthday party. We had an absolute blast planning it together, but the turning 8 part was tough for me. It just seems like she is more young lady than little girl these days:(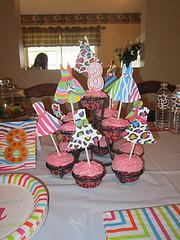 Elle wanted to go with a fashion themed birthday which left me totally at a loss for ideas, so I scoured Pinterest! We bought a pack of cute patterned cardstock paper at Michaels and traced dresses which we cut out and used as cupcake toppers.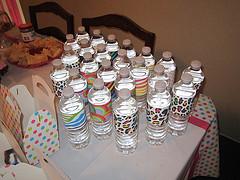 We used the same paper to make 'Fashion Diva' water.  We also had pink punch made with Cranberry Ginger Ale and raspberry sherbet.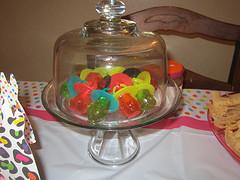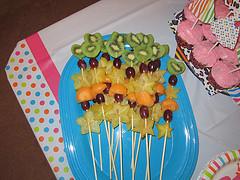 My husband had the cute idea of placing the candy rings on a plate. We kept snacks simple since the party was in the afternoon. We made fruit skewers using kiwi cut into heart shapes, grapes, cantaloupe, and starfruit. Everything is yummier on skewers!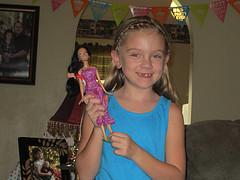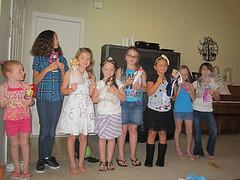 We started off the party with a fashion contest.This kept the girls busy while everyone arrived. Each girl dressed a Barbie and then they had to tell the name of their Barbie and their platform like. 'Save the Whales' etc. When we asked our littlest guest what her Barbie's platform was she said, "Save the date!" So cute. We'd bought a few packs of mini-trophies and decorated them with fancy shoe scrap-book stickers. Elle gave each Barbie a trophy for silliest dressed, most fashionable, etc.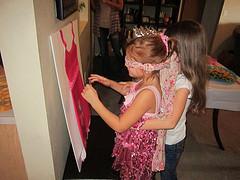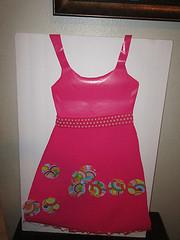 Next, we played pin the polka-dot on the dress. The dress was made out of wrapping paper and then I cut polka dots out of the cardstock.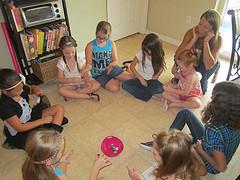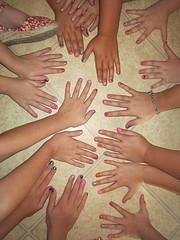 The girls played hot-potato nail polish in the kitchen. I played music and then when the music stopped the girls had to paint their nails whatever color nail polish they were holding. Lots of giggling and thankfully no spills!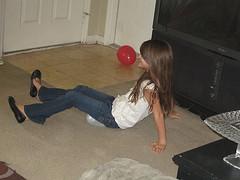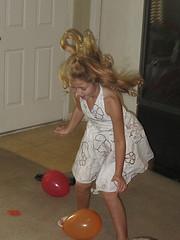 Once everyone's nails where dry the girls played 'fashion charades'. Elle and I wrote out things like curl your hair, put lipstick on, etc and then put each charade in a balloon. The girls had to pop their balloon to get to their charade and then act it out while the other girls tried to guess it. They were hilarious trying to pop their balloons.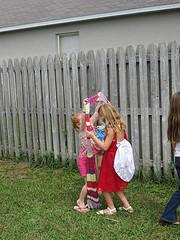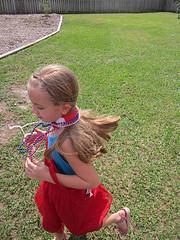 We headed outside for a 'Runway Relay'. The teams raced to dress up, run their lap and then help the next teammate dress up.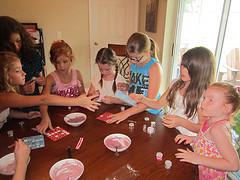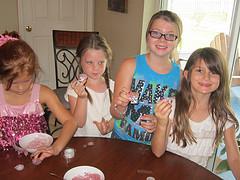 The girls made their own lip gloss and decorated some small containers we found at the Dollar Store                to hold it in.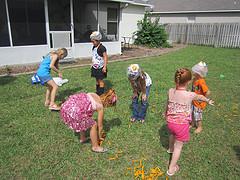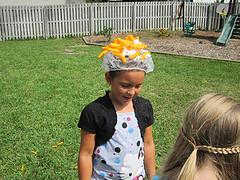 For the final game of the day the girls 'did each others' hair. They put shower caps on and then I put shaving cream on the top of each shower cap. Their partner had to see how many cheese doodles they could toss  onto their partners head in two minutes. They all had very silly new hairstyles when they were done!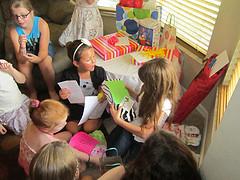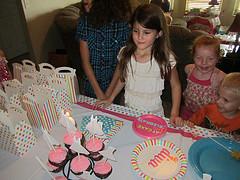 After all the girly activities were over our family and some of our close friends with boys stopped by for candles and cake. At the end of the day my sweet birthday girl declared it the best birthday ever. Thanks to all of our wonderful friends and family it was!