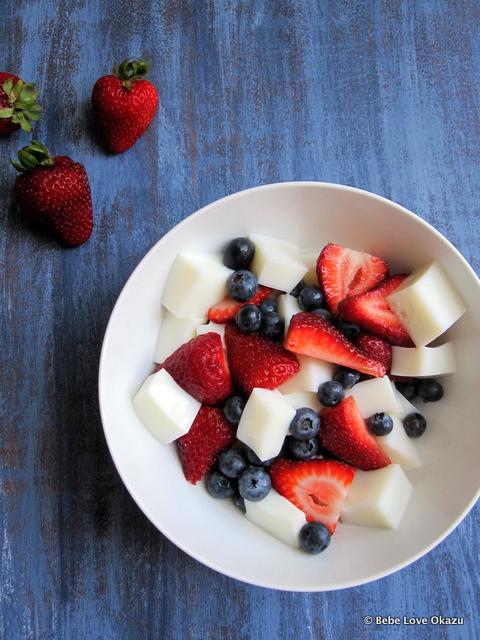 Happy 4th of July!
Every year we enjoy a potluck dinner, swimming, and fireworks with family.
A few days ago I saw a cute red, white and blue dessert on Pinterest with strawberries, blueberries and a white gelatin. As soon as I saw the picture, I thought I could easily make a similar dessert, but using a family almond jello recipe (available here).
The strawberries and blueberries are slightly tossed with sugar and then served with little almond jello squares.
Have a safe, fun, and patriotic 4th!
Note: For the recipe below, use the following almond jello recipe on my blog.
Print
4th of July Berry & Almond Jello Author: 
Judy | Bebe Love Okazu
Recipe type: 
Dessert
  Ingredients
1 cup fresh blueberries
2 cups sliced fresh blueberries
1 batch of homemade almond jello (recipe available on "Recipes" page of Bebe Love Okazu)
1½ tablespoons granulated sugar
Instructions
Slice strawberries.
Cut almond jello into small squares.
Just before serving, gently toss sliced strawberries and blueberries with sugar.
Combine jello squares and fresh berries in a large bowl and serve immediately.
3.2.1230