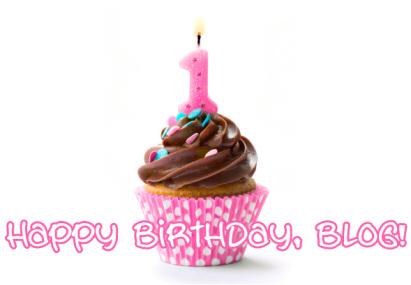 Today marks ONE YEAR of blogging!!! I feel proud and accomplished and a little like whoa, it's already been a year?!?! Well it has, and this post will be full of random awesomeness in celebration of my blogging adventure.
First random thing: My blog and my dog, Mocha, almost share a birthday! My rescue puppy had her 3rd birthday yesterday and here she is, happily chewing away on her new bone: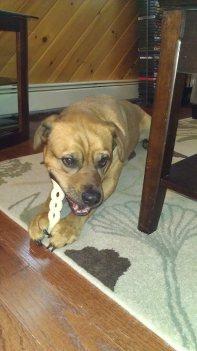 The second random thing I want to do is answer some questions about myself for my readers. I realize that so many of us school counselor bloggers share a lot about our work (duh, this is why we started our blogs in the first place), but very little about ourselves. So here are some things about me, the blogger behind the blog. I took these questions from Andrea's blog.
Share 10 things about yourself that most of your readers wouldn't know:
1 I'm a very quiet person but I'm not shy. I like to observe before I jump in, and I will definitely speak up if I feel the need.
2 I have a tattoo on my wrist. While some may view having a visible tattoo as inappropriate or unprofessional, the message has actually started some good discussions with my students. Here's a picture: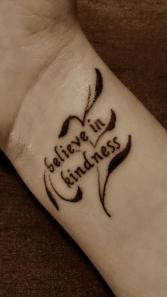 3 It's been a longtime dream of mine to publish a book. I don't know what I want to write about yet, but I know that I want to write.
4 In college, I was an editor and columnist for my college's newspaper. I published 'The Sex Column' biweekly, articles about relationships and sex, that got me equal parts admiration and scorn from students and professors.
5 I do not and will not wear makeup. I can't stand the feel of the stuff on my skin. The time I wore the most makeup was for the after party of my Halloween wedding (I was a corpse bride). Here's a picture: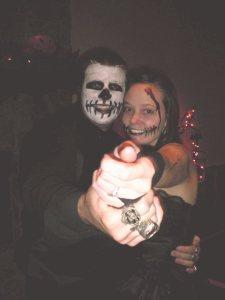 6 I'm a vegetarian and have been for 5 years. I could never go back to eating meat.
7 Sometimes I think I have OCD-light, and my husband would definitely agree.
8 I'm jealous of people who wear dresses a lot. I wish I could wear them, but it just doesn't feel comfortable for me.
9 I recently got into yoga and I'm in love with how it makes my body feel.
10 Chips are my comfort food. I can eat a bag at a time!
What's your favorite thing about your job? There's a lot that I love, but my favorite part is connecting with my students. Earning the trust, respect, and love from a child is an incredible thing!
What would you be if you weren't in the School Counseling field? Well, I used to want to be a crossing guard, then a veterinarian, then a teacher, then a school counselor. My guess is I would probably do something with animals, either a vet tech or run a rescue.
What do you do for self-care? Yoga, pet my dogs, laugh with my husband, write, watch mindless shows on Netflix, read blogs (for hours, no joke!), go to the movies, and go out to eat.
What books are you currently reading? Currently, nothing! Gasp, how dare I not be reading anything?! Well, I'm waiting for books to come in from Amazon, and then I'll be reading about a dozen children's books to plan for next school year.
What's your guilty pleasure TV show? I don't have cable, so I use Netflix. I've recently watched Scandal, The Killing, Parks and Rec, Pretty Little Liars, and Orange is the New Black. My life is so chill most of the time (no drama) that I get it from the shows I watch instead, which is fine with me!
If you could live anywhere in the world, where would it be? Is there a place that has autumn-like weather year round? If so, that's where I'd want to live. I love autumn leaves, crisp air, and the smell of apples, foliage, and pumpkins.
What are your top 5 tech tools? Honestly, I don't use a lot of tech tools or apps because I don't have an iPad (I know I know, I'm like a young dinosaur when it comes to technology). I use blogs, Facebook groups, Pinterest, Twitter, and YouTube.
The third and final random thing I want to do is share the top 5 blog posts that I'm most proud of!
1 Who's giving whom the apples these days? This post was written early on in my first blogging year about the importance of building connections with your students, which is something I believe in wholeheartedly!
2 Circle Up! This post is about community circles and why I feel that facilitating them has made all the difference in my counseling program and school climate.
3 End of year four is a post I'm proud of mostly because of my School Counselor Report that I shared. I'm so glad I took the time (and it took time, holy cannoli!) to gather the data and put it together. I highly recommend reporting out in this way, as it's great advocacy and accountability for us school counselors.
4 12 Things You Should Never, Ever Say to a School Counselor is a post that, let's face it, put me on the map as far as blogs go. Shortly after I wrote this sarcastic and relevant post, my followers and blog hits blew up!
5 That Counselor Couple is a page on my blog about the YouTube channel that my husband and I created together to share important information about mental health topics. It takes us hours to film, edit, and post each video, but we're very happy to do it. The more people talking about mental health/illness, the better.
After one year of blogging, I've reached a couple of milestones that I'm proud of: 500+ followers and 50,000+ blog hits! Here's to another year of writing about and sharing my voice with you! Thanks for reading, commenting, sharing, reblogging, liking, and/or favoriting my blog posts. All of it means the world to me!!!