Dinnertime is very important to me.  It's the one meal I make each day that requires the table to be properly set and a candle to be lit.  It's the time I gather my family around, a blessing is said (my little ones say the sweetest, funniest blessings), and we share our meal together.  There's no rushing, although lately we seem to be having a bit of problem with lingering, actually, the problem is more like loitering.
Basically, it's this lovely time of day I look forward to and it goes well for the first ten minutes or so, and then it all unravels.  Theo and Sully look at the food on their plates like it has tentacles; like it's alive and going to cause them severe nightmares.  They whine and cry, Eric and I start freaking out. 
I have to admit, even I was tired of everything I've been cooking lately.  My standard recipes exhausted and so were my kids, which was causing a great deal of this again and I don't like my chicken in that sauce.  Last week I set out for the library, determined to bring home a few cookbooks to spark my little one's love of good food again. 
Success.
The first new recipe I tried was the simplest thing in the world - *Butter Chicken.  Preheat oven to 375 degrees F.  Melt one stick of butter in a big saute pan.  Working in batches,  filet 2-3 chicken breasts (or buy cutlets to save a step), salt and pepper, and brown on each side in melted butter (about 2-3 minutes a side).  Place browned cutlets in a baking dish.  Once they are all browned, pour remaining butter over chicken.  Add 2 or 3 tbsp. lemon juice if desired.  Bake for 20-25 minutes.  I served the chicken with olive oil and herb noodles.  My little ones devoured it.  Theo ate two cutlets - almost unheard of these days, and both of them exclaimed it's delicious!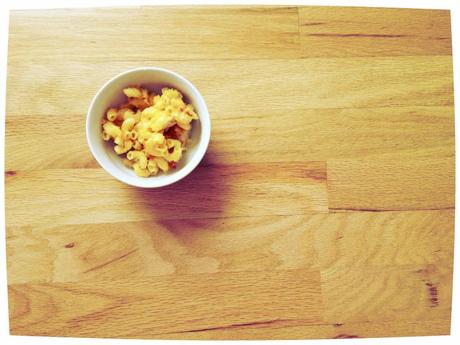 Next I made a new baked Mac&Cheese recipe.  Inspired by a Martha Stewart recipe I pinned a while back.  My boys devoured this one, too.  They also had no idea it was full of butternut squash, not that I'm trying to hide veggies from them, but what's the point of making it a deal when they're eating happily?!
 Macaroni, Butternut Squash & Cheese
2 cups butternut squash, cubed (I used frozen)*1 cup chicken stock (can use veggie stock to keep recipe vegetarian)1 1/2 cups milk1/4 tsp. ground nutmeg1 tsp. saltfreshly ground black pepper3/4 lb. elbow macaroni (not quite the entire 1 lb. box)2 cups extra sharp cheddar, finely grated.  (totally worth buying a good quality sharp cheddar and grating)1/2 cup finely grated parmesan2 tbsp. bread crumbs1 tsp. olive oilplus a bit of extra cheddar and parm for sprinkling on top
1. Preheat oven to 375 degrees.  Combine squash, milk, and stock in a medium saucepan; bring to a boil over medium-high heat.  Reduce heat and simmer until squash is completely tender, about 10-15 minutes.  Remove from heat.  Using an immersion blender, mash squash until desired consistency.  Add nutmeg, salt and pepper.  Set aside.
2.  Bring a large pot of water to boil.  Add a pinch of salt and macaroni.  Cook al dente--about 7-8 minutes.  Drain.
3.  In a large bowl, add noodles, squash puree, and both cheeses.  Stir until well blended.
4.  Lightly coat a 13x9 inch baking dish with butter.  Transfer noodle mixture to pan.  Mix breadcrumbs in a small dish with olive oil and sprinkle on top of mac & cheese.  Sprinkle a bit of extra cheddar and parm on top.  Cover with aluminum foil and bake for 20 minutes.  Remove foil and finish baking for 30-35 minutes.
I served the mac & cheese with a green salad.  
*Butter Chicken adapted from Whatever Happened to Sunday Dinner? by Lisa Caponigri
* Squash, fresh or frozen - I think roasting it first would lend a rich depth to the dish.