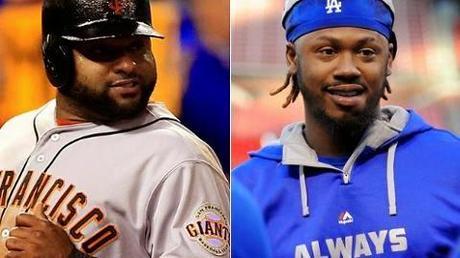 The Red Sox might quite the splash late last night (more like an earthquake) when they came to terms with both Hanley Ramirez and Pablo Sandoval on five-year contracts.
Ben Cherington got the two middle of the orders bats he needed. Ramirez figures to go to the outfield, most likely left field, as the Sox are still committed to Xander Bogaerts at shortstop. Ramirez apparently agreed to a 5 year, $90 million deal, while Sandoval agreed to a 5 year, $102 million contract.
Both deals are risky, of course. I've never been the biggest fan of Ramirez, who has had injury problems the last two years, and has on occasion not given his best efforts. Sandoval's weight has been a long time issue, but I bet the Sox see him as a DH when David Ortiz' career comes to a close.
These free agent signings tell me that both Yoenis Cespedes and Will Middlebrooks will be on a new team next year. I'm betting both will be packaged in a big swap for a starting pitcher. Lots of candidates out there.
And now the attention turns to Jon Lester, as the Red Sox offered him a six-year deal last week, and a decision from him should be happening soon.