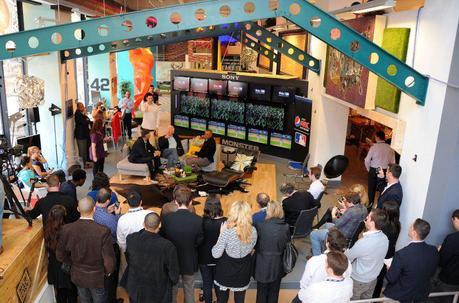 Last week, I received an invitation from my friend Andrea to attend an event at the new MLB Fan Cave in Greenwich Village that was held yesterday at noon.
It was to say the least a very memorable day.
Andrea is one of my Red Sox fan friends from Professor Thom's, and she also works for Pepsi. Pepsi Max is the new official soft drink of MLB, and she asked me if I'd like to attend a press gathering for the debut of three new commercials for Pepsi Max featuring current and former MLB players.
How could I say no?
It was held at the MLB Fan Cave, which is also located on the site of the former Tower Records store on the corner of East 4th Street and Broadway. The store closed over four years ago, and a few companies have been at the location since. MLB took it over and it is where two fans are watching every game during the 2011 season and are blogging about it. It is also a place where many players will be dropping in for some special events during the year as well. (And as the event was going on, the Red Sox were stomping all over the Blue Jays at Fenway on the TVs located in front of us. It made the day all the more special.)
Yesterday, Hall of Famers Rollie Fingers, Ozzie Smith and Mike Schmidt were on hand to discuss the ad, as they appear along with other immortals such as Carlton Fisk, Dennis Eckersley, Rickey Henderson (his spot is very funny), and Randy Johnson. There are many current players in the commercials such as Jim Thome, C.C. Sabathia and Evan Longoria. (Even Mr. Met and the Mariner Moose represented the team mascots!)
The commercials are designed based on the film "Field of Dreams." They are cleverly put together and are entertaining. They will debut on television today. To check out more about the commercials, including some interviews and behind-the-scenes clips, check out this link.
Here is the first of three commercials, called "Clubhouse In The Corn":
The three Hall of Famers came out and talked briefly about the ads, they were made available to all of us there for a few short minutes to answer questions privately. I was really surprised to hear that, as I thought it would be more of a "press conference" type event. (And Yours Truly prepared no questions, so I had to wing it off the top of my head.)
I walked over to Rollie Fingers first and I shook hands with him and he came across as a rather personable guy. I asked him how he enjoyed the shoot, and he said he was surprised how long it took to film the ads (as an actor could relate to that), but he said he enjoyed being back with a number of his contemporaries. (And that the shoot took place at a warehouse in Tampa, Florida.)
Rollie also told me he hadn't done much media over the years, and wouldn't mind doing more of it. I also had to ask him about his classic handlebar mustache. He said he would probably keep it the rest of his life, and that he was paid $300 by Charlie O. Finley in 1972 to grow it, along with many of his other Oakland A's teammates.
I next chatted with Ozzie Smith. He had a big smile for me and greeted me warmly with a firm handshake. When he was told that I wrote a blog called "The Mighty Quinn Media Machine," he said, "Hey Mighty Quinn!" He certainly comes across as the nice guy he's always appeared to be. There's a scene in the commercial where Ozzie does his patented "backflip," and I asked him if he really did it or if it was done with the help of modern technology. Ozzie gave me a wide smile and laughed and told me "You'll have to figure it out."
I asked him about his biggest thrill in baseball, and it was winning the 1982 World Series with the Cardinals. I asked him about his relationship with his former club, and he told me he hasn't done too much with them. He mentioned that he and current manager Tony LaRussa weren't the best of friends. (I had forgotten about the stormy end to Ozzie's tenure with the team in 1996.) He said that he thinks the current Cardinals still have a good chance to make the playoffs despite the injuries, and compared them to the 1985 team that shocked many of the baseball pundits and won the NL pennant.
Overall, I really enjoyed speaking with Ozzie. A very nice man.
I concluded my chat with the Hall of Famers with Mike Schmidt. He greeted me warmly and asked him about the film shoot. He also enjoyed doing it and spoke about some of the funny outtakes that weren't used in the commercial. I asked him about his biggest thrill in baseball, and I thought he might say his 500th home run. But like Ozzie Smith, he said it was winning the World Series, in 1980 with the Phillies, and how much it meant to the city and fans.
I also asked him about the current club, and he was also optimistic about his former club. He talked about the importance of signing Cliff Lee and how having two stoppers like him and Roy Halladay should make up for any shortcoming the Phillies may have on offense.
I found Mike a little more reserved of the three players I chatted with, but he was cordial when we finished.
I was really thrilled to be part of the event on Monday, and I want to thank my friend Andrea, the people at MLB and Pepsi and Lindsey at Matter, Edelman Sports & Entertainment Marketing for letting me come in and share on the event. The MLB Fan Cave is quite a place, and it was so surreal being there, since I had worked in that very spot from 1984-1990 when it was New York's most popular music store.
I look forward to hopefully going back again at another time this year.