New works by Ferris Plock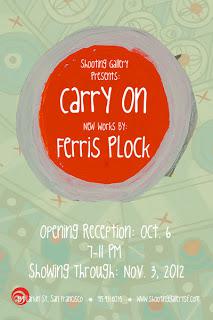 The opening reception will be Saturday, October 6th, from 7-11pm, and is free and open to the public for viewing through November 3rd, 2012.
Shooting Gallery is pleased to present Carry On, new works by Ferris Plock. This will be the artist's third solo exhibition with the gallery. For the new body of work featured in Carry On the artist brings back more of his brightly colored character work and adds in experiments with three-dimensional pieces and new techniques of weathering his work. Plock's instantly recognizable style of finely drawn details and intricate patterns against simply stained backgrounds are influenced by Japanese woodblock prints and achieved through a variety of materials. House paint, wood stains, gouache, gold foil, and wood panels are transformed into windows to a world where a kimono-clad samurai might hoist a boom box instead of a sword and anthropomorphic creatures are frozen mid-yell, mid-jump and mid-mischief.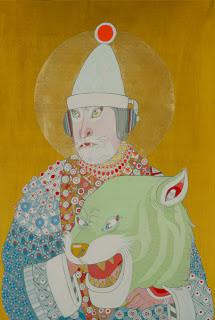 White Walls Gallery,835 Larkin St, San FranciscoCA 94109
415-931-1500 http://whitewallssf.com